My ongoing recovery from surgery has me doing some minimal blogging and writing… I'm a little late for Katherine Drexel's feast day, but maybe you'd still enjoy the blog post below that hopes to honor her!
Last fall I enjoyed a marvelous visit, alongside my good friend, Lisa Hendey, to the World Meeting of Families in Philadelphia and to see Pope Francis. One of the bonuses of driving there was that on the way home to Boston we got to visit with our mutual friend, Barb Szyszkiewicz. Barb is a blogger at Franciscan Mom, and together with Lisa, is an editor and contributor with over 300 articles over at Catholic Mom.com. We journeyed as a threesome to the National Shrine honoring St Katharine Drexel.
Here's a few photographic highlights:
[gss ids="102781,102780,102779,102778,102777,102776,102775,102774,102773,102772,102771,102770,102769,102768,102767,102766,102765"]
"The Eucharist is the continuation of the Incarnation.
In it Jesus communicates Himself to me and to every human heart."
St Katharine Drexel
Visit the National Shrine website.
You might also like this short video about her life…
https://youtu.be/5XV8rL4C_TI
You might enjoy this earlier Among Women podcast from 2009 in which I share Katharine's biography. I intend to talk more about her writings and thoughts in an upcoming podcast later this week.
Copyright 2016 Pat Gohn.
All photos copyright 2015 Pat Gohn. All rights reserved.
About the Author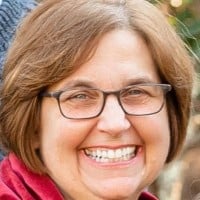 Pat Gohn is a married empty-nester with three adult children and four grandchildren. An author, catechist, speaker, and host of the Among Women podcast since 2009, her books include the award-winning Blessed, Beautiful, and Bodacious: Celebrating the Gift of Catholic Womanhood, and All In: Why Belonging to the Catholic Church Matters. She works in Catholic publishing as an editor. Visit PatGohn.net