My son Henry, who is 10, has always been enamored with stories of the saints. He has a large collection of illustrated books featuring their lives, as well as painted wooden figurines bearing their likenesses on his shelf. He loves the symbolism that is present within the iconography of their images. For example, St. Isadore the Farmer carries a scythe and a sheaf of wheat, while St. Nicholas is dressed as a bishop and carries a handful of gold coins.
It warms my heart to see him so interested in our faithful friends up in heaven, and I hope that he feels inspired by their example. One saint that is a favorite of his is St. Dominic Savio, and I think that this particular saint captured his attention because of one important fact: he died at the young age of fifteen. For children, seeing someone live a heroically virtuous life, pass away at a time very near to their own state in life, and then go on to be proclaimed a saint, is a remarkable thing. I could tell that this really resonated with Henry.
"Wow. He was a kid, just like me. And he's a saint?"
So we've taken St. Dominic Savio under our wing in our house. We have several books containing his story, and Henry is very curious about the different details related in each.
The root of St. Dominic's story is that as a young boy, he felt very fascinated by the Mass. Right away, this is a fact that I want my son to absorb, since he is definitely at that age in which: "Mass is SO BORING, MOM." Well, St. Dominic loved the Mass, and was an altar server. He had a strong devotion to the Eucharist, and with childlike, faith-filled bravado, resolved that he would rather perish than commit a sin. Given his love of the holy sacrifice of the Mass, it is unsurprising that young Dominic aspired to become a priest. He was also a pupil of St. John Bosco! Impressively, St. John wrote a biography of St. Dominic shortly after the boy's death in 1857.
One of Henry's favorite parts of St. Dominic's story tells of an incident that happened at school. Two other boys in his class caused some trouble, and when the teacher discovered the results of their ploy, they pointed to Dominic as the culprit. Dominic was punished, and never spoke out for his own innocence or against his classmates. Eventually, their teacher discovered the truth, and asked Dominic why he did not defend himself. He answered that he was imitating Jesus, who did not speak up when he was being persecuted.
St. Dominic is quoted as saying: "I am not capable of doing big things, but I want to do everything, even the smallest things, for the greater glory of God." His philosophy is very reminiscent of St. Therese of Lisieux, another saint with childlike faith who perished at a young age. Indeed, St. Dominic died in his mid-teens of an illness. His birthplace is now a retreat house for teenagers, and he is the patron saint of choir boys and of the falsely accused. His feast day was originally March 9th on the Church calendar, but has now been moved to May 6th.
To my mind, saints like St. Dominic Savio inspire a childlike example of holiness, but also nourish a possible calling to the religious life. For a young boy to read about another, not much older than himself, who already felt called to the priesthood at twelve years of age, that is an impressionable thing. My son may or may not experience that same calling, but I believe that it's important to encourage children in this regard wherever possible. St. Dominic Savio is included amongst his collection of featured saint figurines, along with St. Maximillian Kolbe, another priest and favorite!
Have any of you talked with your children about St. Dominic Savio or another child saint? What is your child or grandchild's favorite saint? I would love to hear all the saint talk down in the comments!
Copyright 2016 Tiffany Walsh
About the Author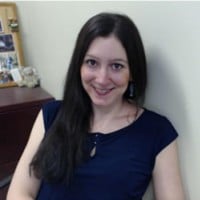 Tiffany Walsh is a wife and mother, a native western New Yorker, and a college librarian. She is a cradle Catholic who rekindled her childhood faith as a graduate student via her love of books, and is the author of Exploring the Catholic Classics, part of the Stay Connected Journals for Catholic Women series. She enjoys writing about faith, crafting, dance, fitness and wellness. Visit her blog at Life of a Catholic Librarian.