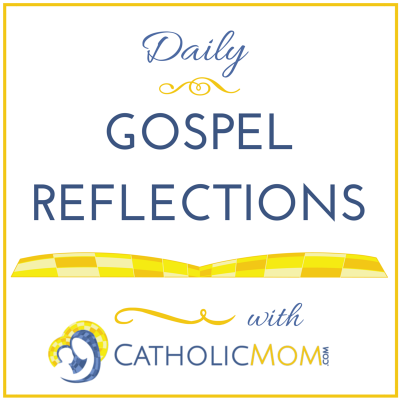 Today's Gospel: John 21, 1-14
Sometimes life can be confusing, difficult and just plain hard, and we get so absorbed in earthly matters, we forget that Jesus is always here with us, guiding and directing us.
In this Gospel, Peter sets out to do some fishing and several of the other disciples join him. Sitting in their boat all night, the disciples caught absolutely nothing! What struck me is that these men knew how to fish and yet they had caught nothing. Then Jesus shows up and says, "Cast the net over the right side of the boat and you will find something." They then go from zero fish to more than they can pull in. In addition, Jesus' closest friend, Peter, has to be told by the disciple, identified as "(the one) whom Jesus loved," "It is the Lord." It took someone else to show Peter that Jesus was in their midst, even though Peter probably knew Jesus best of all those in that boat.
I think we all take turns being both Peter and the unnamed disciple. No matter how much we know and love Jesus, we sometimes forget that Jesus is there to turn to in all things big and small. Sometimes though, we get so wrapped up, so that like Peter, it takes someone else to point out Jesus in our lives. While at other times, we are like that unnamed disciple who helps to show others that Jesus is present in their lives.
Lastly, Jesus gave his disciples a clear and direct message and they chose to follow it. Even though they were probably tired from a long night of unsuccessful fishing, their hearts were open to His direction and therefore, they were blessed with "one hundred and fifty-three fish." The Gospel goes on to say that "Even though there were so many, the net was not torn." If we trust ourselves fully to Jesus, not only will he provide, but he will fill our lives with more love, joy and fulfillment then we ever could imagine.
Ponder:
What can each of us to do to be intentional disciples who are always following and looking for Jesus in our daily lives?
Pray:
Dear Lord, guide me to see you in all things big and small. Direct my heart and soul so that I may grow closer to you each and every day. Amen.
Copyright 2016 Jenna Weaker
After eight years of teaching, I now have the best job ever; I am a stay-at-home Mom to my two beautiful children. I love being active in my parish in a variety of liturgical, catechetical and outreach ministries. I am constantly striving to grow in my faith, and love that I was given the opportunity to be involved in this project!
About the Author