I once took a mother in a crisis pregnancy out on a very special trip to Target. She had recently considered abortion, but left her appointment because she felt God say, "Trust me." Several weeks later, we were setting up her baby shower registry at Target with the Mary Garden Showers ministry.
A lady in the store started a conversation with the mother in crisis. "You already have two toddlers? And you're pregnant? Wow, just wait until that next baby gets here! You will be so busy."
The woman had no idea this mother was in an abortion-vulnerable situation and had recently chosen life for her son.
Fast forward to today, and now I am also pregnant and have two toddlers. The comments have started for our family as well. I often hear, "You've got your hands full!" Many times this is a well-intended comment said with a warm, reassuring smile.
But once, an elderly man at the cash register gestured to my children and said, "They're a lot of work, aren't they?" I smiled and replied, "Well, they're a lot of fun!" "Yeah, but they're a lot of work, too," he went on, trying to get me to agree. I later found out this man was never able to have children with his wife, which of course made me empathetic to his situation.
Nevertheless, I'm grateful that my children aren't old enough to understand how they're being discussed in public.
Yes, my hands are full. They are full of blessings.
Yes, my children keep me busy. I stay busy reading books in the rocking chair, washing little socks, sewing up torn stuffed animals, trying to get chocolate stains out of dresses, preparing macaroni and cheese, and thanking God that I have been blessed with children.
Of course it can be hard to care for a family. Every vocation comes with difficulties. But, "Wow, you've got your hands full," is a fitting expression when you're reaching out to help someone carry a heavy load that's about to fall. "They're a lot of work, aren't they?" is a fitting question for a chicken farmer or a zookeeper.
Little ears are listening to everything we say.
Imagine if a married couple were out together and someone told the husband, "Wow, you've got your hands full with her, don't you? She's a lot of work, isn't she?" This would not be kind to the wife, as it would imply that she is work and a burden to bear. So why is it acceptable to expose children to the idea that they are work and a burden to bear?
We live in a society that tends to see children as just that – work, a financial burden, a strain on a marriage or relationship, and a roadblock to finishing up an education or career.
This is sadly feeding the abortion on-demand mentality. We must be more careful about what we say to pregnant women. We must be more careful about how we discuss children – especially in front of children.
The children you see on the playground and at the grocery store are our future lawmakers, future medical workers, and future mothers and fathers who may face crisis pregnancies down the road. We need to nurture these children and build them up with beautiful words of love at every opportunity.
In the Bible, children are always and only seen as a blessing. This is what we need to promote within our culture – that every child is a blessing!
Next time you see a pregnant woman or a mother out and about with her children, tell her she is blessed. Take a moment to connect. Ask her how you can pray for her and her family.
"Certainly sons are a gift from the Lord, the fruit of the womb, a reward. Like arrows in the hand of a warrior are the sons born in one's youth. Blessed is the man who has filled his quiver with them. He will never be shamed for he will destroy his foes at the gate." – Psalm 127:3-5

"Whoever receives one child such as this in my name receives me." – Matthew 18:5
Yes, thanks be to God that I have been able to have children. Thanks be to God that my hands are full.
They are full of blessings.
Have you ever been told your children must be a lot of work? How can we respond lovingly to this comment?
Copyright 2016 Kaitlyn Mason
About the Author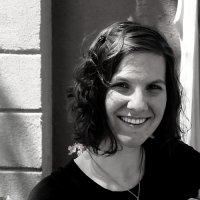 Kaitlyn Clare Mason is founder of Mary Garden Showers, a national ministry sharing Christ's mercy with women and families in crisis pregnancies. Author, songwriter, and homesteader, she is blessed to be a wife and the mother of four children. She writes to help you trust & serve the world through your home at KaitlynClareMason.com.