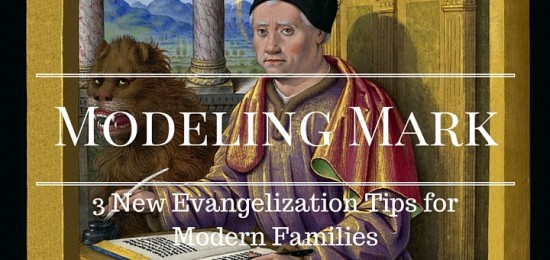 Tomorrow, on April 25th, we celebrate the Feast of St. Mark, Evangelist. We recognize St. Mark as a disciple who traveled with St. Peter to spread the Good News and as the author of the earliest canonical gospel. In an era when sharing our faith can be a daunting prospect, the life of St. Mark gives us a few starting points for sharing our faith within our own homes and beyond.
In recent months, Pope Francis has written and spoken broadly on the topic of family. Those of us who live in families understand that the average day in a family's life is far from picture perfect. For some of us, "evangelizing" and sharing the faith is most challenging with those who live under our own roofs. We may have a spouse of a different faith tradition or children who are rebelling against all they have been taught. We may have parents who question how we are bringing up our families. Or, perhaps most challenging of all, we may feel dry and distant in our own relationship with Jesus Christ.
So when Pope Francis tweets words such as he did on April 9, encouraging us that, "Every family, despite its weaknesses, can become a light in the darkness of the world", how are we to respond?
Every family, despite its weaknesses, can become a light in the darkness of the world.

— Pope Francis (@Pontifex) April 9, 2016
I propose that we look at the life of St. Mark for three simple ideas to bring the New Evangelization to life in our homes and beyond.
#1: Don't Give Up, Even When We Mess Up:
Although he is not identified by name, we believe that in the 14th chapter of Mark's gospel, the "young man" we read about who fled when Christ was arrested is Mark himself:
"Now a young man followed him wearing nothing but a linen cloth about his body. They seized him, but he left the cloth behind and ran off naked." (Mark 14:51-52)
The young man wants to follow Christ, but in his fear and humanity, when the going gets tough, he runs away.
But from studying the life of St. Mark, we know that this is not the end of the story. The evangelist went on to share Christ's story in many places. He even founded the church in Alexandria. The young man could have given up and kept running after he abandoned the savior. But Mark made a conscious decision to start anew.
All of us will have moments when, out of fear or discomfort, we miss the opportunity to stand up and be a true follower of Christ. We do not have to be defined by these evangelical failures. Rather, let's remember in those moments to drop to our knees and ask for God's grace to stand up with renewed conviction and do better next time. The key for families is recognizing opportunities, even missed ones, and with loving conversation opening our hearts and minds to the gift that God is placing before us to share how much we love him with those who matter most. If you recognize a failure or missed opportunity, take a few moments to quietly pray about what happened, assess how you might have acted or spoken differently, and make a plan for the next time.
#2: Stay in the Word:
Mark's authorship of the Gospel According to Mark is debated by some. In my simplicity, I choose to leave those arguments behind and simply to follow Mark's lead by immersing myself in the Word. Every day, the Church lays before us a full course serving of the Bread of Life in the form of the daily Liturgy of the Word.
As families, one of the best gifts we can give ourselves is to make daily reading and reflection upon the gospels a part of our family life. The gospels contain not only the stories of Christ's life, but also pearls of incredible wisdom that can aid us in our own daily trials and challenges. The gospels also give us the tools we need to share our faith beyond the walls of our own homes. But we cannot share what we do not know. So daily time with the Word must be a hallmark of our family life.
#3: Keep Close to the Rock:
In the book Lives of Illustrious Men, St. Jerome says of St. Mark,
Mark the disciple and interpreter of Peter wrote a short gospel at the request of the brethren at Rome embodying what he had heard Peter tell. When Peter had heard this, he approved it and published it to the churches to be read by his authority as Clemens in the sixth book of his Hypotyposes and Papias, bishop of Hierapolis. Peter also mentions this Mark in his first epistle, figuratively indicating Rome under the name of Babylon "She who is in Babylon elect together with you saluteth you and so doth Mark my son."
Just as we recognize St. Mark's closeness with and obedience to St. Peter, "the Rock" upon who our Church is built, our families are called to remain faithful to the Magisterium of the Church. Today's communications tools make it easier than every to follow the teachings of our Holy Father, Pope Francis. To keep close to the "Rock", consider the following for your family:
As we celebrate the life and legacy of St. Mark, let's remember to spend some time this week as a family discussing how we might more actively and joyfully serve as evangelists ourselves.
A Prayer through the Intercession of St. Mark the Evangelist:
Lord, help me to follow in the footsteps of St. Mark and to fall in love with You completely, desiring only Your will in my life. Help me to hear your voice and to be guided by the Holy Spirit to do all that You ask of me. Amen.

God our Father, You helped St. Mark the Evangelist with Your grace so that he could preach the Good News of Christ. Help us to know You well so that we may faithfully live our lives as followers of Christ. Amen.

Through the prayers of Saint Mark, may the Lord Jesus Christ have mercy on us. Amen!
Copyright 2016 Lisa M. Hendey
Image credit: Jean Bourdichon - Bibliothèque nationale de France, lien/link ici/here, Public Domain
About the Author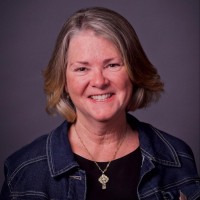 Lisa M. Hendey is the founder of CatholicMom.com, a bestselling author and an international speaker. A frequent radio and television guest, Hendey travels internationally giving workshops on faith, family, and communications. Visit Lisa at LisaHendey.com or on social media @LisaHendey for information on her speaking schedule or to invite her to visit your group, parish, school or organization. Visit Lisa's author page on Amazon.com.