Possibility Productions and Holy Spirit Parish in Fresno, California invite you to Central Valley Encounter, a Catholic Concert Celebration for the entire family featuring contemporary headline artists Dave Moore, Tori Harris, Fr. Kevin McGoldrick and Daniel Bell.
Dave Moore
Dave Moore, an accomplished protege of Matt Maher, is a Catholic Singer-Songwriter whose passion and heart for God can be seen through his life and music. Dave travels the country headlining Lifeteen, Adore, Rukus, Exalt and other major Christian music and revival events. Visit www.davemooremusic.com
Tori Harris
Tori Harris is one of the fastest-rising worship leaders in Catholic music. Her recent sophomore album, Sweet Dolor, debuted at #2 on iTunes Christian & Gospel charts. Her inspiring faith and unique story have the 27 year old traveling around the world. She's graced the main stage of major Christian music festivals like Lifest and Ichthus and played everywhere from LifeTeen camps to major American universities and Diocesan Youth events. Tori has been featured as a guest on Sirius XM, EWTN, Catholic Underground, Relevant Radio, Catholic Playlist Show, and interviewed alongside Matt Maher, Ike Ndolo, and Audrey Assad. Visit www.toriharris.com
Fr. Kevin McGoldrick
Fr. Kevin McGoldrick has been a priest for more than 10 years and a musician for more than 30 years. He's a blues singing, guitar-playing priest assigned to the Chaplaincy at Aquinas College in Nashville. His newest album, Square Peg Round Hole, incorporates blues, worship music, and even rap about coffee. If he's not celebrating Mass, hearing confessions or playing pool in the student lounge, you'll find him jamming with some of Nashville's top musicians. Visit www.kevinmcgoldrickmusic.com
Daniel Bell
Daniel Bell, a convert to Catholicism, is one of Nashville's best who has worked and toured with Tori Harris and Fr. Kevin McGoldrick. Daniel spent much of 2015 touring the nation with former American Idol contestant and top Christian artist, Danny Gokey. Visit Central Valley Encounter on Facebook and take a moment to invite your friends and family to this Catholic concert celebration.
Friday, July 15, 2016, 7:30pm • Holy Spirit Catholic Church, Fresno, CA • $25 VIP Early Entry Q&A with the Artists (Limited Availability) General Admission is $20 at the door • $15 Advance (Save $5)
Visit www.holyspiritfresno.org or phone 559-434-7701 for details. Tickets are available at Holy Spirit Parish. Click here to purchase your tickets on line today.
https://www.youtube.com/watch?v=YwnuA1MPXpU
About the Author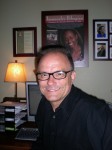 Brian is a cradle Catholic, husband and father. He's the Co-Founder and Executive Director of Possibility Productions, a 501(c)(3) faith event evangelization apostolate in service of the Body of Christ. Brian has proudly served the Roman Catholic Diocese of Fresno on the Board of Directors for KNXT Catholic Television, is the Steward of St. Patrick's Faith Event Ministry for his local parish and a 4th degree member of the Knights of Columbus. Brian and his wife are consecrated members of the Militia Immaculata. For information on the MI and Total Consecration visit Consecration.com.