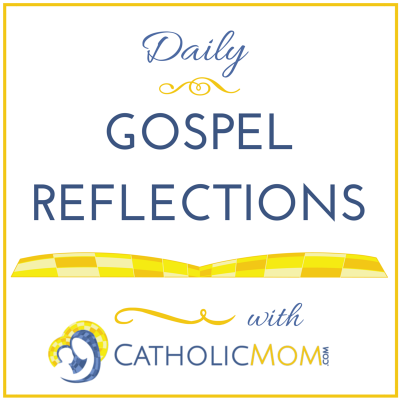 Today's Gospel: Luke 2, 41-51 - Immaculate Heart of Mary
Mary and Joseph must have been beside themselves when they couldn't find Jesus. My daughter was once 'lost' at an ice rink for about 10 minutes. We broadcast a description of her - blonde hair, blue flowered parka, pink snow pants - over the public address system to everyone in the building and she was quickly found, playing near some bleachers. But I thought my body would fall apart from shaking so much. I can't even imagine the suffering of not knowing your child's whereabouts for three whole days.
When Jesus's parents finally reached him, he didn't answer his mother's question, "Son, why have you done this to us?," instead replying, "Why were you looking for me? Did you not know that I must be in my Father's house?" Mary and Joseph must have felt conflicted; proud of their son for his desire to be in the temple, the home of God Almighty, but also a bit sidelined, not unlike parents today, whose children are eager for independence and experiment with it in ways that are sometimes healthy and sometimes dangerous.
As Mary "kept all these things in her heart," we see a wise example for us. Though she could not understand her son, she kept her own counsel in the confusion, joy, and sorrow of parenting him. She trusted in God's plan and honored God's timing, just as she had since the angel first appeared to her to tell her she would bear God's son. It was a mysterious plan, but she consented to it, because she loved the Lord just as He tells us to - with all her heart, soul, mind, and strength.
Ponder:
When I am faced with a baffling situation, do I turn to the Lord for strength and guidance? Or do I seek the counsel of family and friends, whose intentions and advice might be well-meaning but is perhaps not best-suited to me and the event at hand? What does God offer me when I am anxious? How can I partake more often of the peace He freely gives?
Pray:
Lord, please help me to remember that Your hand is upon me and my children at all times, even during events which cause me anxiety and confusion. Increase my trust in Your love for me.
Copyright 2016 Gretchen E. Matthews
Gretchen Matthews is a writer in Annapolis, Maryland. She was raised as a non-denominational Christian and joined the Catholic Church in 2007. She blogs about her faith and life with her husband of eighteen years, three outgoing kids, and two rescued dogs at www.gretchenmatthews.org.
About the Author