If you are like me, occasionally you will hear a song that lifts you up and maybe inspires and helps with the challenges you happen to be facing on any given day. A good example of this occurred this past weekend for me. I was listening to a song entitled XXX's & OOO's (An American Girl) sung by Trisha Yearwood. I particularly enjoyed the line in the song that says "She's got her God, and she's got good wine, Aretha Franklin and Patsy Cline."
The song writer points out in the song, that as a child, what was important to us then was wearing our hair in ribbons and bows and signing letters with XXX's and OOO's.
Life happens and you are faced with lawn mowers breaking down, bills to pay; but as the song states, there is still much to make us happy out there.
In reality, life rarely turns out like the fairy tale we hear about as little girls growing up. Most of us do grow up and get married and have families, but along with it, we will experience all the challenges that this journey called "life" brings with it. We will have difficulties along the road; they include things like financial troubles, or sickness either with a child or a spouse or even ourselves, or someone close to us gets in serious trouble, or worse, we experience the loss of a loved one. Other things such as the loss of a pet, or friendships that disappear, I could go on with examples of difficulties we face. Through it all we learn that along with the difficulties and challenges there will be joy! Life as a journey is there to embrace, joys and difficulties alike.
(Matthew 6: 25 – 27) "That is why I'm telling you not to worry about your life and what you are to eat, nor about your body and what you are to wear. Surely life is more than food, and the body and more than clothing!" (Matthew 6: 33-34) "Set your hearts on his kingdom first and on God's saving justice, and all of these things will be given you as well. So do not worry about tomorrow: tomorrow will take care of itself. Each day has enough trouble of its own."
Isn't it maddening when you realize that even after the best of intentions to stay positive you spent the day focusing on the negative? Our mind gets drawn to centering on our concerns only. Regrettably, we get so caught up in coping with our difficulties we forget about the happy moments we are also experiencing. I'm sure you know what I'm referring to here. Did we pay the bills? Do we have enough money for the whole month because of added expenses we weren't expecting? The laundry needs to be folded. A child has to go to ballet or soccer practice. Is the homework done?
[Tweet "Life as a journey is there to embrace, joys and difficulties alike."]
I remember a favorite writer of my mother's was Erma Bombeck. She was a writer, a journalist, and a TV personality. Later in her life, when she learned about a fatal illness she was facing, she wrote a poem entitled "If I had my life to live over."
"If I had my life to live over, I would have talked less and listened more.
I would have invited friends over to dinner, even though the carpet was stained,
and the sofa faded……..
When my kids kissed me impetuously, I would never have said, "Later. Now go get washed up
for dinner."
But mostly, given another shot at life, I would seize every minute… Look at it and really see it…
Live it……and never give it back!"
There is so much good and joy around us. There is the beauty in all of God's gifts that are staring at us every day. For example, do you know the feeling you get after it has rained for several days and then all of a sudden the sun comes out? It's a gift and it makes you smile to see the sun. Moments which go by so quickly such as when your child or grandchild runs up to you and gives you a hug and says "I love you." Or, after a trip to the beach, you realize how amazing the size of the ocean is and the beauty it provides us. Another thought, while attending Mass you have this overwhelming sense of peace that inspires you. And one more example: the doctor tells you that your test results came back favorable. You breathe a sigh of relief. You get to continue to live this journey we call life.
Don't hesitate to look for all the good and joy surrounding you. "Seize every minute," the good and the difficult; it's all a gift! Don't forget, the best awaits us because of "God's saving justice." As the song says, "You've got your God, you've got good wine, Aretha Franklin and Patsy Cline;" there is so much to celebrate in our journey called life.
Copyright 2016 Catherine Mendenhall-Baugh
About the Author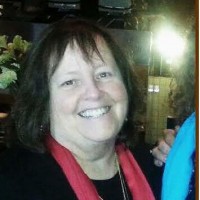 Catherine Mendenhall-Baugh (Cathy) completed her education in Special Education and English and now works as an Agent in the Insurance Industry. A mother and Grandmother, Cathy grew up in a large Catholic family and has spent the last 30 years as a caregiver for her husband, Jack. She is a cancer survivor which inspired her to begin writing six years ago.