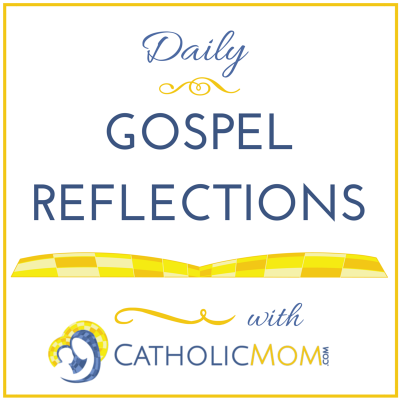 Today's Gospel: Matthew 5, 43-48
In today's gospel from the Sermon on the Mount, Jesus instructs us to "love your enemies and pray for those who persecute you" (Mt 5:44). Pope Saint John Paul II tells us in Evangelium Vitae (The Gospel of Life) "By so doing we achieve harmony with the providential love of God."
Because of our humanity this can be difficult and at times seem impossible to accomplish. But St. John Paul II tells us, the "enemy ceases to be an enemy for the person who is obliged to love him (cf. Mt 5:38-48; Lk 6:27-35), to 'do good' to him (cf. Lk 6:27, 33, 35) and to respond to his immediate needs promptly and with no expectation of repayment (cf. Lk 6:34-35)."
This love for our enemy springs forth from forgiveness. Saint John Chrysostom says, "if we strictly search out all our misdeeds at home, abroad, and in the market, and in church" will we then be able to forgive those who have offended us. So today let us call to mind our transgressions and those we may have offended. Let us seek forgiveness where it is needed and offer it with a loving heart to others.
During this Jubilee Year of Mercy let us show mercy and love to our enemies. For it is this love that as St. John Paul II says "disarms the adversary and is able to transform a battlefield into a place of supportive cooperation." Let us open our hearts to the healing power of forgiveness, and as God gives us mercy, so to let us give mercy to our enemies.
Ponder:
Are there relationships in your life that need mending? Is there someone that has hurt you that you have not yet forgiven? How might you reach out and show mercy and begin to heal a broken relationship?
Pray:
Jesus, your mercy and forgiveness are never ending, yet I often waiver in showing mercy. Help me today that I may be as forgiving and merciful as you are with me. Blessed Mother Mary most Holy fill my heart with the love of your Son so that I may always be merciful to my enemies.
Copyright 2016 Cesareo A. Lona
Cesareo A. Lona is retired from the United States Marine Corps where he spent 20 years serving as an Electronics Technician. He is a 3rd Degree Knight of Columbus with Council 4621 in Amarillo, Texas. He and his wife Ruby Lona have 7 children and live in the Archdiocese of Amarillo where they attend St. Thomas the Apostle.
About the Author