This summer my husband and six teens from our parish will join more than a million other Catholics for a pilgrimage to Poland for World Youth Day. They'll follow in the footsteps of some of the greatest saints of the 20th century and encounter Jesus in the Eucharist, the Word, each other and in Pope Francis. And even with all the conveniences of modern travel, they'll offer up plenty of sacrifices as they make their physical and spiritual journey.
I'll be staying home this time, praying for them, eager to share in the fruits of their journey.
Sometimes it's tempting to lament the limitations of my vocation. It will be some years before I can make that kind of great journey again. But later this summer, as my girls and I anticipate Josh's return, we are going to embark on a pilgrimage of our own, uniting our hearts and intentions to pilgrims across the globe.
My girls and I will prepare by making a bouquet of flowers for Mary and practicing a hymn or two. We'll sing as we walk across Notre Dame's campus to the Grotto and Basilica and we'll give Mary our flowers. After we enter through the Holy Door of Mercy, we'll take a moment (maybe two!) of quiet and then pray the Chaplet of Divine Mercy as we walk back. It will be simple, but I'm really looking forward to it!
Summer is a great time for a little pilgrimage, and even more so this year as we celebrate the Year of Mercy. It can be small! It can be short! It can be tailored to the abilities of our little ones.
Will you join our little family in a pilgrimage? Here are some ideas of how you can join us:
Look up the Holy Door for the Year of Mercy nearest you
Check out this website to find a pilgrimage site within reasonable traveling distance from your home, or en route to your family vacation
Visit a local church or shrine (or several) that you've never been to (especially if there's one connected to your family history, or one of your patron saints)
Imitate St. John Paul II and make a pilgrimage to your baptismal font
Let your little ones help you plan the journey, choosing prayers and acts of faith
Invite another family to join you for your pilgrimage
What ideas or resources can you share for families making a summer pilgrimage?
Copyright 2016 Megan Swaim
About the Author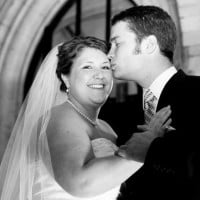 Megan Swaim is an Indiana girl on an east coast adventure. A former high school youth minister, she now gets to minister full-time to her three young daughters and her husband Josh. Megan spends her days homeschooling at the kitchen table, drinking iced coffee, and exploring coastal Virginia.