This post is part of our Ordinary Time, Extraordinary Mercy series, in which CatholicMom.com contributors will share their own experiences of living the Year of Mercy. Beginning at Pentecost and continuing through the summer, we'll cover many aspects of the Works of Mercy in family life.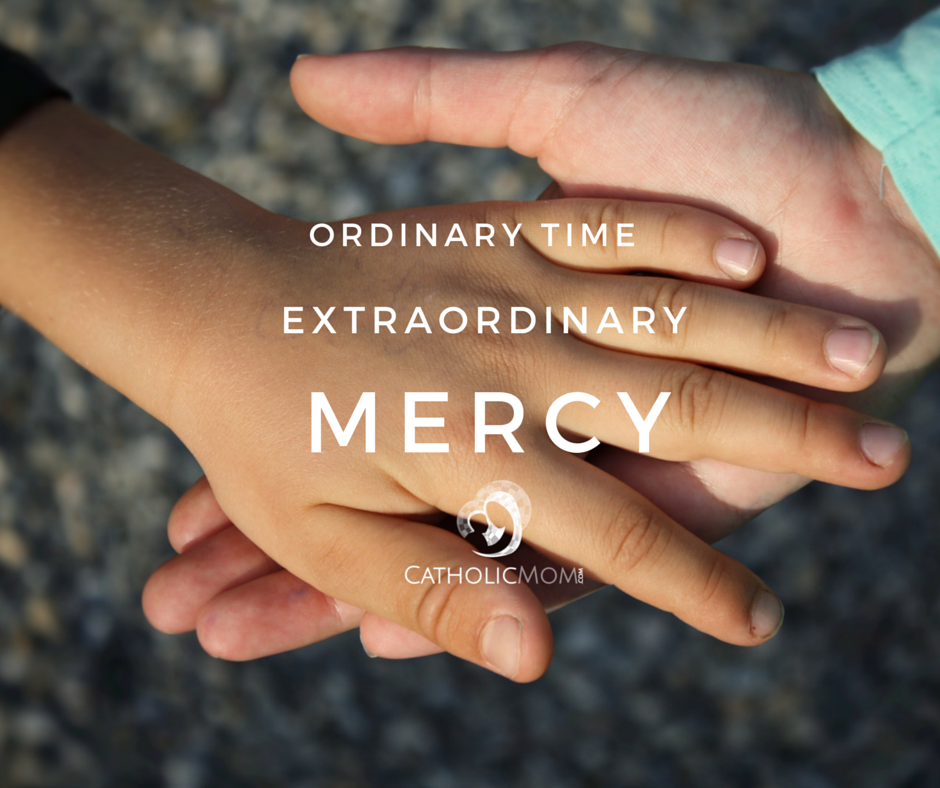 A phone call abruptly brought Walter, the Englishman, into our home. He was a contract employee under my husband's supervision who was injured while off duty. My husband needed to find a place for Walter to live until the insurance arrangements could be sorted out. It turned out that both Walter and his wife insisted that we could take care of Walter better than she could in England. After all, unlike her, I was home with the children.
I failed the charity test with Walter. His needs were more than I could manage. I tried to keep silent, but my frustration with the situation grew into resentment I was unable to hide. His physical needs were many, but not as exhaustive as his emotional needs. From first thing in the morning until well into the night he wanted to talk. A television in his room was not enough, nor were his books. He needed to interact with people. Most of the time I was the only one available.
His stay with us did not end well. He resented being moved to an apartment when his physical therapist determined he could live alone.
Journals of mercy
The Walter fiasco is one of many stories in my many journals, which act as my confidant and confessor. These books receive my overreactions, complaints and rantings -- and later my contrition. Sometimes it is decades before I am willing to seek God's mercy and forgive others and myself for how we have hurt each other.
A few months ago I was rearranging the boxes in a closet and opened a box of journals from my child-rearing years. There, displayed in black and white were my bad attitudes and evidence of my stubborn will not yet ready to yield to God's will. In reading the entries, I found God's mercy had worked in my heart. Many of my attitudes had softened. The saga of Walter was among those stories. Other occasions of sin caused me to pause and pray about that long-ago situation and go through a forgiveness litany.
These hurtful journal entries signal a need for my repentance or forgiveness of someone. I now read situations described so vividly and pray for God's mercy until I can scrawl "Forgiven!" in big letters across the page. Instead of crying, I forgive every person, one by one, involved in that hurtful situation. Then I deal with myself. I must use my stubborn will to forgive myself, knowing God's mercy will kick in when I want to rebel and return to my former rebellious self.
[Tweet "I must use my stubborn will to forgive myself, knowing God's mercy will kick in. #OTEM"]
I have ripped out a few spiral pages with personal information about myself or others that are not appropriate to share with curious readers. Destroying journal pages is part of the forgiving, healing, renouncing and freeing!
Mercy's second chance
Some journals later, twenty-five or so years after Walter, the Englishman, came Fr. Bob, the Franciscan priest. During the time when he was the chaplain for our covenant community, he was scheduled for hip surgery. At supper after our Sunday afternoon prayer meeting, a group of us talked with him about the plan for him to go to a rehab center directly from the hospital. Then he would stay with a couple that both worked outside the home. He objected, saying he would stay with my husband and me who both worked I home offices. Surprised, we could only accept this assignment from God to care for one of his humble servants.
A staph infection broke out citywide in our hospitals right before his surgery. He was determined to get out of the hospital quickly and not go to a rehab center. I brought him home.
Caring for Fr. Bob was not at all like caring for Walter. My husband took care of all Fr. Bob's physical needs and I took care of meals and laundry. He delighted in saying Mass for us every morning and watching TV movies with us at night. He seemed to be praying for us constantly and for visitors who unexpectedly came and went. It was a time of healing for me from the scars of Walter, as God's mercy flowed through Fr. Bob.
One incident of God's mercy came about halfway into Fr. Bob's six-week stay with us. I lay down one afternoon with a headache. From the kitchen I heard the refrigerator open and close, then the cupboards, as dishes and pans moved from cabinet to stove to table. What was going on? Fr. Bob was preparing dinner for us!
Although he still needed help dressing himself and getting up from the recliner and couldn't drive himself to the doctor, he wanted to surprise us by cooking dinner! That's God's mercy at work!
God gives us second chances to reconcile our past mistakes when we are ready to receive his healing in the service of others. He helps us write "Forgiven" over the painful entries of our heart so we can tear out the pages and be free!
What second chances has God given you?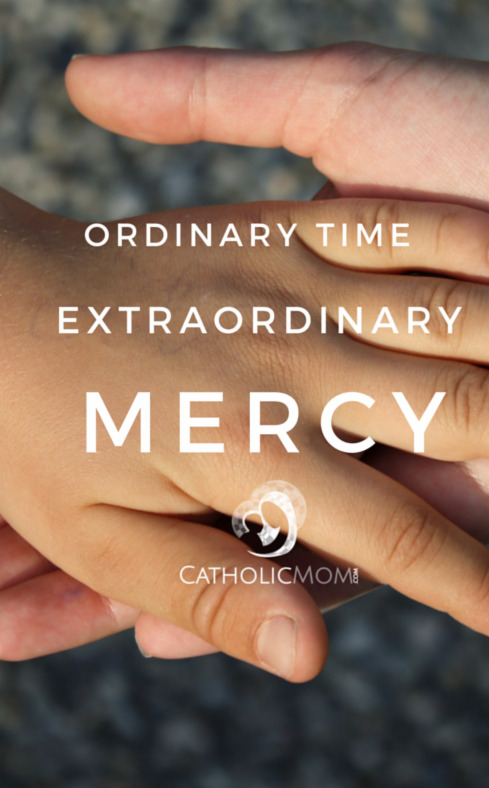 Read the other articles in our "Ordinary Time, Extraordinary Mercy" series.
Copyright 2016 Nancy Ward
About the Author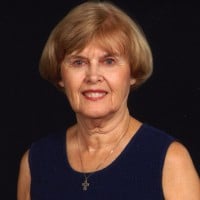 Nancy Ward authored Sharing Your Catholic Faith Story: Tools, Tips, and Testimonies (and the DVD) and contributed to The Catholic Mom's Prayer Companion. She loves to share her conversion story and give evangelization workshops and retreats equipping others to share their faith. She facilitates the DFW Catholic Writers, Catholic Writers Guild Nonfiction Critique Group, serves on their Board, and speaks at writers' conferences. Learn more at JoyAlive.net and NancyHCWard.com.