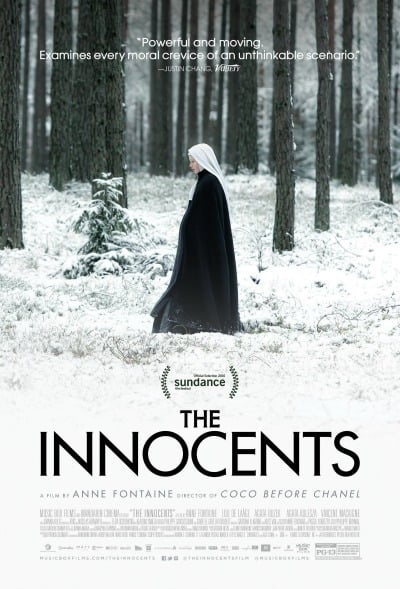 It's nearly impossible to tidily summarize The Innocents as it hits theaters this week. Based upon tragic real-life events, the film evokes the story of a French Red Cross physician who finds herself embroiled in a literally unspeakable situation:
Warsaw, December 1945: the second World War is finally over and French Red Cross doctor Mathilde (Lou de Laage) is treating the last of the French survivors of the German camps. When a panicked Benedictine nun appears at the clinic begging Mathilde to follow her back to the convent, what she finds there is shocking: a holy sister about to give birth and several more in advanced stages of pregnancy. A non-believer, Mathilde enters the sisters' fiercely private world, dictated by the rituals of their order and the strict Rev. Mother (Agata Kulesza, Ida). Fearing the shame of exposure, the hostility of the occupying Soviet troops and local Polish communists and while facing an unprecedented crisis of faith, the nuns increasingly turn to Mathilde as their beliefs and traditions clash with harsh realities.
https://youtu.be/JEeEekaqFiQ
While The Innocents plays out on the big screen in Polish and French with English subtitles, the breathtaking portrayals turned in by Mathilde (Lou de Laage), Sister Maria (Agata Buzek) and Mother Abbess (Agata Kulesza) quickly have the viewer forgetting that the heartbreaking action of this film does not play out in one's mother tongue. In reality, the sinister turn of events that has left several of the cloistered nuns in the movie pregnant due to repeated rapes in post-World War II Poland is based upon the historic writings of French Physician Madeleine Pauliac, as her nephew Philippe Maynial recounts:
The situation in Poland was dramatic. Warsaw, a martyred city after 2 months of insurrection against the German occupant (between August and October 1944), had been razed to the ground causing the death of 20,000 combatants and 180,000 civilians. During this time, the Russian Army, present in Poland since January 1944 under Stalin's orders, remained armed and waiting on the other bank of the Vistula River. After a backward surge from the German Army and the discovery of all the acts of violence committed by the Germans, the Red Army and its provisional administration followed to rule over the liberated territories. It's within this context that Madeleine Pauliac was named in April 1945 Chief Doctor of the French Hospital in Warsaw, which was in ruins. She was in charge of repatriation within the French Red Cross. She conducted this mission throughout Poland and parts of the Soviet Union. She accomplished over 200 missions with the Blue Squadron Unit of women volunteer ambulance drivers for the Red Cross in order to search for, treat and repatriate French soldiers who had remained in Poland. It's in these circumstances that she discovered the horror in the maternity wards where the Russians had raped women who had just given birth as well as women in labor; individual rapes were legion and there were collective rapes perpetrated in convents. She gave medical care to these women. She helped them to heal their conscience and save their convent. Madeleine Pauliac died accidentally while on a mission near Warsaw in February 1946. Les Innocents recounts this episode of her fight as a woman to save other women.
This is not an easy film to watch. And unlike some other films which treat faith-based topics with kid gloves and neat endings, The Innocents does not tie its final package into a totally perfect gift with a pretty ribbon on top. While Mathilde and Sister Maria manage to find a solution which honors the dignity of life, there are still massive questions of faith, of guilt, of commitment to vocation and indeed of the potential for salvation which are left for the viewer to contemplate for herself.
Who are "the innocents" in this movie? I found myself asking this question when tearfully considering the film's protagonists:
The helpless babies, born as a product of rape, yet no less human and deserving of a mother's love
The sisters and novices, violated by men but also left to suffer within a system totally incapable of ministering to the trauma they have faced
The doctor, adrift without faith of any kind, yet moral enough to comprehend the right thing to do and then to do it
The Mother Abbess' right hand, a woman who chose the cloister knowingly and struggles daily to find one moment of hope amongst endless hours of doubt
Perhaps even Mother Abbess herself, willing to accept condemnation so that (by her way of reasoning), others may be free of it.
I found a bit of myself in each of the characters. The film's ability to--through gifted cinematography, lighting and sound--draw me so totally into the cloister's heartbreak left me glued to the story as it unfolded. And though an end came, indeed an end which promised a glimmer of hope, my heart turned not to that hope but instead to the women around our world today--our "innocents"--who suffer still:
The rape and sexual assault victims whose circumstances vary but whose suffering will perhaps never find soothing balm
Those enslaved in modern times
The voiceless of many societies whose plight goes unspoken
I believe that The Innocents is a must see film (find a theater near you here). But I will warn you that seeing it may require you to move beyond your comfort zone.
[Tweet "I believe that The Innocents is a must see film."]
Once you've watched The Innocents, you may find yourself unable to reconcile some of what you see with your preconceived notions of right and wrong. You may see yourself in some of the characters, the good ones but also the bad. And you may ask yourself what more you might have done--or are currently doing--to see Christ within our world's "innocents" and to better love him by more fully loving them, even when it takes you beyond your comfort zone.
Why not see the film for yourself and find out?
Copyright 2016 Lisa M. Hendey
About the Author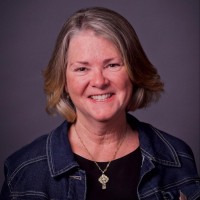 Lisa M. Hendey is the founder of CatholicMom.com, a bestselling author and an international speaker. A frequent radio and television guest, Hendey travels internationally giving workshops on faith, family, and communications. Visit Lisa at LisaHendey.com or on social media @LisaHendey for information on her speaking schedule or to invite her to visit your group, parish, school or organization. Visit Lisa's author page on Amazon.com.