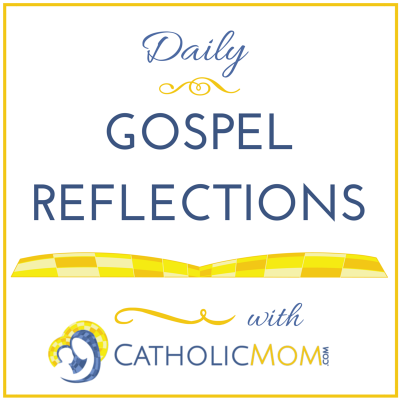 Today's Gospel: Matthew 11, 25-27
"For although you have hidden these things from the wise and the learned, you have revealed them to the childlike": this prayer of Our Lord continues to challenge the "intellectual" part of me.
On the one hand, I can recognize the limits of my own understanding. On the other hand, pride in my mental capacities is one of my deep-seated sins. I know this by my knee-jerk reaction whenever I feel someone doubts my understanding—it feels like a threat, and I fight back by either correcting the person's assumption or trying to "one up" them.
Jesus's words today remind me that true wisdom comes by revelation to the pure of heart. One saint who exemplifies this is St. Thomas Aquinas, the great medieval theologian. Thomas was a scholar, and like any scholar, he wrote. A lot. But his voluminous writing impresses me less than his simplicity of heart.
After Thomas resisted the famous assault on his chastity by his family—they abducted him from those disreputable Dominicans, locked him in a tower, and then set a prostitute on him—God granted him the gift of perfect chastity. Because of this his intellect was also purified, for "the pure of heart shall see God."
But most touching to me was that he forgave his family. Dawn Eden points out that, despite undergoing what we would call sexual assault, Thomas kept up relations with his family and treated them with gentleness and respect. Purity that doesn't bear fruit in love isn't purity at all.
That Thomas loved is what makes him a saint. As St. Paul reminds us, following Christ's words today, "If I have prophetic powers and understand all mysteries and all knowledge, and if I have all faith, so as to remove mountains, but have not love, I am nothing" (1 Cor. 13:2).
Ponder:
Do I see God's revelation of faith as a gift?
Pray:
Lord, I am your child. Please teach me to rely not on myself but upon you. Amen.
[Tweet "Lord, I am your child. Please teach me to rely not on myself but upon you. @RhondaOrtiz_"]
Copyright 2016 Rhonda Ortiz
Rhonda Ortiz is a freelance graphic designer and the author of The Virtuous Jane Austen: Short Reflections on Character, available on Amazon Kindle. Follow her work at www.rhondaortiz.com.
About the Author