Editor's note: Today we thank guest blogger Brother John M. Samaha, S.M., who has shared the following article for our readers, and Sr. Margaret Kerry for extending the invitation for his work to appear on our site. Lisa M. Hendey
How does Holy Scripture portray the Virgin Mary? Most of the divinely inspired writers of the various New Testament books unveil verbal images of the Virgin Mary, Mother of Jesus, in varying stages of clarity and completeness. Father Bertrand Buby, S.M., a biblical scholar at the International Marian Research Institute, University of Dayton, U.S.A., and a former president of the Mariological Society of America, has offered the perspective treated in this brief article. Surveying in a chronological order the texts of the New Testament treating Mary, we discover that the image and person of Mary become clearer, more developed, and more important to the churches emerging from the seeds planted by the Apostles.
[Tweet "Brother John M. Samaha, S.M. explains how Holy Scripture portrays the Virgin Mary."]
Paul Alludes: A Shadow (Galatians 4:4-5, Romans 1:1-4)
The image of Mary in Paul's letters emerges faintly as a shadow. Paul makes no direct mention of Mary. But his allusion to the divine plan in Galatians 4:4 is the earliest reference to Mary in the New Testament. She is intimately bound to the Son of God because she is his mother and forms him in Judaic practice.
Mark Mentions: A Silhouette (Mark 3:31-35, 6:1-6)
Mark is the first Jewish-Christian writer to record the name of Mary in a manuscript. In his two paragraphs referring to Mary, he identifies her as the mother of the Messiah. Mark gives us a silhouette of Mary.
Matthew Recalls: A Sketch (Matthew 1 and 2)
Matthew's infancy narrative presents a pencil sketch of Mary. He records that Mary is the real, physical mother of Jesus, and Joseph is his legal, though not real, father. In Matthew we find the beginnings of a sound Mariology.
Luke Presents: A Portrait (Luke 1 and 2, 8:19-21, 11:27-28, Acts 1:14)
Luke goes beyond the shadow, silhouette and sketch of his predecessors and captures the full personality and character of Mary. This is especially evident in his infancy narrative. Luke is Mary's portrait painter. He spreads a verbal canvas of the first and faithful disciple of Jesus with a well-delineated portrait of Mary in sharp colors.
John Contemplates: A Sculpture (John 1:13-14, 2:1-12, 19:25-28)
The fourth evangelist had a longer time to reflect on Jesus as the way, the truth, and the life, and about Mary, his mother. He strikingly presents Mary as a model of faith and love, especially in the Cana and Calvary events. At those moments John clearly suggests that we approach the mother of Jesus when in need. She will remind us to do whatever Jesus tells us. John masterfully renders Mary as a skillfully sculptured statue, a compassionate countenance finely chiseled in the manner of Michelangelo's exquisite Pietà.
John of Patmos in Revelation Envisions: An Apparition (Revelation 12:1-6, 12:13-17)
In the tantalizing Book of Revelation, John of Patmos refers to Mary as woman, as did the fourth evangelist. In symbolic language he likens Mary to the woman clothed with the sun and a bride descending from heaven. He prefigures the Church in Mary. This John envisions Mary as a mystical apparition.
Conclusion
These are the images of Mary that one avid biblical student sees projected by the authors of the New Testament. What images of her do your eyes conjure when reading the New Testament?
Copyright 2016 Brother John M. Samaha, S.M.
About the Author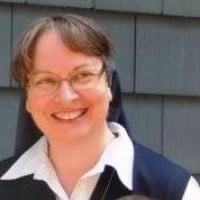 A Daughter of St. Paul for 40 years Sr. Margaret continues to pursue new ways to proclaim the Gospel: sharing the Pauline Charism with the laity, writing books (St. Anthony of Padua: Fire & Light; Strength in Darkness: John of the Cross; Prayers for the New Evangelization), & through direct evangelization. She is available for workshops on the Vocation & Mission of the Laity, Media Literacy, and The New Evangelization. mkerry@paulinemedia.com