Happy are those who hear the word of the Lord and keep it. Luke 11:28
Happiness is a curious thing! Everybody seems to want it and one quick google search can reveal countless sites about how to get it. I even discovered some "happiness retreats" where folks could go to find happiness. In two days, for a mere $3,000 (plus travel and accommodation expenses) you could be taught how to identify happiness and then seek happiness for yourself. I found some pretty crazy stuff! It all left me thinking…we make things so hard sometimes. This post is all about finding happiness and the good news is…it's free! Since the Father who created us and loves us is also the creator of happiness, that seems like the logical place to start.
[Tweet "Each letter of the word #happy represents a way to seek happiness! #findyourhappy"]
Each letter of the word "happy" is a thought or action you can start right now to seek and feel happiness.
H: Holy is His name!
It sounds crazy but if you're feeling worried or cranky or any other emotion that is soaking up your happy, put the attention where it should be: on Him. Stop for a minute and say, "Holy is your name. God. Jesus, I trust you. Father, I praise you. Mighty God, I thank you." You'll be shocked at how fast your attention shifts from you to him and you feel a lightness come over you.
A: Attitude is the big thing!
There are always two ways to look at things; this hurts me or this helps me. Struggles and suffering make happiness tough to attain if we look at things the first way and it sucks us right in to the "woe is me" thinking that makes happiness impossible. Instead realize that struggle and suffering are necessary for heaven and that God is more present in these times. We also have to remember that tough things come and go, just like easy things; life is meant to be a cycle not a straight line.
P: Pray!
(You saw that one coming, didn't you?) Tell God you're cranky and ask him to bring you through whatever it is that is making you feel unhappy. He made you, he loves you and he truly wants his children to be happy. Talk to him about it and ask him to show you what he's trying to teach you in this situation. If that seems too simple; give it a try and see for yourself.
P: Pass on some kindness and mercy.
I don't think there is anything that will bring you out of a slump faster than doing something for someone else. When you're feeling grumpy or frustrated doing a good deed for another, especially the person who made you cranky, is the farthest thing from your mind but purposefully thinking about the needs and happiness of another is a powerful thing. The thing about happiness is it's a bit contagious so start some and you'll be surprised how quickly it lands back on you.
Y: You are HIS!
In the midst of all the things that are sucking away your happiness, remind yourself again and again that you belong to him! Nothing is going to happen that doesn't have a purpose according to his plan. He will never leave you or forsake you or give you more than you can bear. I mean, really, we're talking about the God who parted the Red Sea, helped Paul escape prison with a dozen guards watching over him and who fed 5,000 people with five loaves and two fish. Surely you don't think your unhappy situation is more than he can handle. He can do anything, including take care of you, whom he made perfectly and wonderfully!
Our happiness is rooted in the God who loves and teaches us constantly. Sometimes his lessons come during tough times but the happiness rooted in him is the best kind! So pick a letter and go be happy!
A Seed To Plant: Write these thoughts down and put them somewhere you can grab it when you feel like you could use a little more happy in your day; then pick a letter and get started!
Blessings on your day!
Copyright 2016 Sheri Wohlfert
About the Author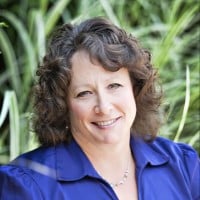 Sheri is a Catholic wife, mom, speaker and teacher. She uses her great sense of humor and her deep faith to help others discover the joy of being a child of God. Her roots are in Kansas but her home is in Michigan. The mission of her ministry is to encourage others to look at the simple ways we can all find God doing amazing things smack dab in the middle of the laundry, ball games, farm chores and the hundred other things we manage to cram into a day. Sheri also writes at JoyfulWords.org.