The life of a praying mother often involves two specific types of prayer: the prayer of petition and the prayer of surrender. In the prayer of petition, we pray for our children or ourselves, asking God to intervene in our lives in a particular way. This may be the way we pray most often as mothers. Thankfully, I've seen quite a few miracles happen through petitioning prayer, some of which I will share in this book. Those are the prayer stories that people love to hear because they build our faith and trust in God and in his amazing power.
But what happens when our appeals seemingly go unanswered, or when life unfolds in a way that we consider negative or even disastrous, no matter how hard we pray or how many times we ask God for something? It is in these instances that God invites us to learn the power of prayerful surrender. It's a prayer that can bring real peace, and it often brings us to deeper conversion and inner transformation. It sometimes takes many hard lessons and countless wrestling matches with God to learn to surrender, and it's something we must practice as we go. But surrendering prayer is worth leaning into and learning well because, in the end, learning to yield to God and say yes to him in whatever life brings changes us.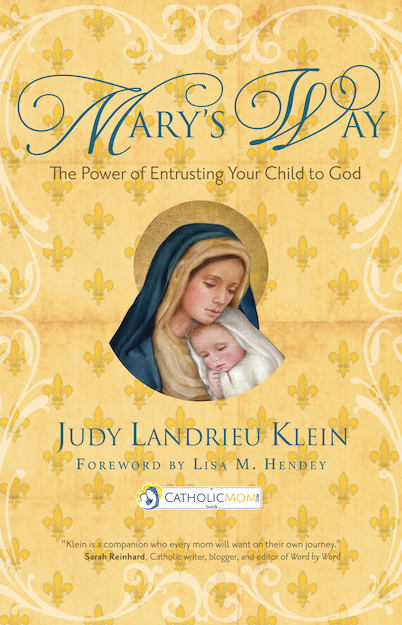 May It Be Done to Me According to Your Word (Lk 1:38)
What exactly is the prayer of surrender? It involves the ongoing practice of opening our hands to God and releasing ourselves and others to him in a way that permits grace to move. It includes developing the habit of giving up our attempts to control people and events by intentionally giving them to God. And it encompasses yielding our will to God's providential will through faith, inviting him to empower us to see our lives through his transcendent perspective instead of through the lens of our own limited human understanding. Learning the prayer of surrender is not a one-shot wonder. It takes much practice, perseverance, and patience, plus the example of those who have lived it extraordinarily well.
When considering surrendering prayer, there is no better example to ponder than Mary, the Mother of Jesus. Surely, the Blessed Mother had to surrender her Son to the Father in heaven repeatedly during his life, ultimately giving Jesus up in prayer on the Cross. The unfolding of the Son of God's life presented many formidable challenges for his Mother, and in each trial Mary had to learn to yield to God more fully. Each relinquishment was an act of love, and every surrender became an open space for more love. Therein lies the mystery of the prayer of surrender—a mystery we can learn at the feet of Mary.
[Tweet "A mother's prayer = offering her child + herself to God to make space for his love. By @jklein60"]
The power of a mother's prayer consists in offering her child and herself to God in a way that makes more space for his love—a challenge that's easier said than done! It is a challenge we will consider at length in this book, using scenes from Mary's life as our guide. We will follow the Blessed Mother from the annunciation to the Resurrection, seeing in each moment of her life with Christ what we can prayerfully glean from her example. We will learn how she submitted herself and her Son to the Father unceasingly and how her surrender made space for the expansion of God's infinite love in this all-too-imperfect world.
Print out this Prayer of Consecration of a Child to Mary and pray for your child!
Reprinted from Mary's Way: The Power of Entrusting Your Child to God by Judy Landrieu Klein with the kind permission of Ave Maria Press.
Buy this book through our Amazon affiliate link and support CatholicMom.com with your purchase!
About the Author