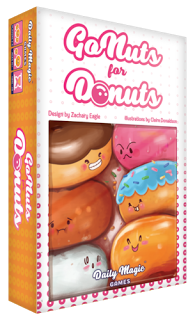 Sushi Go! is a super popular game, due to its low price-point, ease of learning, quick playtime, and cute illustration style. In a similar vein, Daily Magic Games has created a game called Go Nuts for Donuts! In this game, you are competing with your friends to eat as many donuts as you can. The game is designed for 2-6 players ages 8+. It takes about 20 minutes to play, and you can back it on Kickstarter.
Review
For better or for worse, Go Nuts for Donuts! is going to draw lots of comparisons to Sushi Go! At their core, they are both set collecting games, centered around food, with cute, kid-friendly graphics. However, that is where the comparisons should stop. For starters, the game mechanics are completely different. In Sushi Go, you are drafting cards from separate hands of cards and then passing the hands and going again. In Go Nuts for Donuts, everyone has access to the same cards at the same time, but you are fighting over them. You aren't just able to affect the people to your left/right, but you are able to affect the whole table. This leads to deeper strategy. Not only are you trying to figure out what you need and what your opponents need, but you are also trying to figure out if your opponent is going to pick a card they need or pick a card that you need and they don't want you to have. This leads to my next point. In Sushi Go, everyone gets a card every turn. It might not be a card they want or need, but they get one. If Go Nuts for Donuts, you don't always get a card and that might be okay due to scoring.
Speaking of scoring, there are your typical ways to score. A pair of some donuts will get you five points. Some cards scale in value depending on how many you have (1 = 1, 2 = 3, 3 = 6, 4 = 10, and 5 = 15). However, there are cards that give you negative points for the donut, but provide you with special abilities, like discarding an opponent's donut or taking a donut from the discard pile. There are even cards that give you end-game goals, which makes you focus your strategy on perhaps getting more than six types of donuts or fewer than ten donuts total. If I counted correctly, there are currently twenty unique donuts, so there is ample room for many different strategies and a lot of replay value. I enjoy playing Sushi Go and using it as a gateway for other card-drafting games, but after a while it grows stale, and I also just don't like sushi. Go Nuts for Donuts on the other hand is a good gateway game, but it also provides a lot more strategy and decisions, which will appeal to the heavier gamer. Plus, who doesn't love donuts? I highly recommend this game, so support the Kickstarter launch and let's make this game a reality!
To learn more about how to set up the game and play it, click here.
[Tweet "Want to back a brand-new game on Kickstarter? @stuartsstudy recommends these 2!"]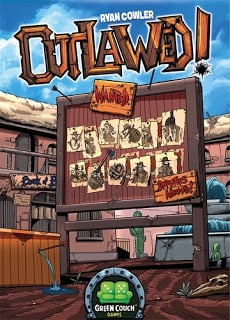 Green Couch Games is one of my favorite game companies, because their games (six so far) are small in nature but large in play value. To see my reviews of some of their other games, click here for Best Treehouse Ever and Fidelitas and here for Rocky Road a la Mode. Today, I am reviewing/previewing their soon-to-be next game, OutLawed! OutLawed! is a game for 2-4 players, ages 10+. It takes 15 minutes to play and the project is live on Kickstarter as of September 14th. In this game, you and your opponents are trying to fill the job of the recently vacant Deputy position in Bandit Bluff. The person with the highest total value of outlaws in their jail will be the winner. Let's get to set up!
OutLawed! is a short game of bluffing, hand management, and reading your opponent. With each Outlaw having a different way of being apprehended, you are relying on your opponents to be able to apprehend your card. "Bandito" Pandito is one of the easier ones to apprehend as you just need one of your opponents to be telling the truth. However, "Stretch" Tannen is one of the harder ones to apprehend as he requires you and all your opponents to lie about who they claimed. Of all the game mechanics out there, bluffing is one of my wife's least favorites. She just doesn't see the benefit/point of lying in a game. It's why Sheriff on Nottingham doesn't see much game time in our household. While I respect her opinion, I don't completely agree with her. You can make bluffing a game mechanic, not feel like you have to lie every turn, and still keep the game fun.
Enough about the mechanics though! The game itself encompasses two hallmarks I have come to expect from Green Couch Games - clever artwork and portable size. Both the theme and character names give a wild west feel to the game, and the artwork has a nice flavor to it. As for the portable size, the game sports a small footprint and short playing time. That means the game won't take up much space on the table, and it will take about fifteen minutes to play. This combination makes the game a good gateway game or filler game, depending on the group and the situation. If you've ever played a Green Couch Games product before, you know you are getting a quality, family game. If you haven't then I encourage you to make this your first one. I guarantee that you'll have so much fun, you'll want the rest of their game library!
To learn more about how to set up the game and play it, click here.
See all the Favorite Games for Family Game Nights reviews here.
Copyright 2016 Stuart Dunn
About the Author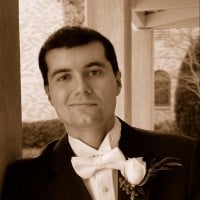 Stuart Dunn was born and raised in Mobile, AL and received a Bachelor of Arts in Psychology and a Master of Business Administration from the University of South Alabama. Stuart reviews all things Catholic including adult books, children's books, Bible Study series, Catholic Courses, CDs, and DVDs in addition to board games at his blog Stuart's Study at StuartsStudy.blogspot.com.