Pasta. A big bowl of pasta. It's my guilty pleasure. I'm not partial. It can be covered in butter, salt & pepper. Bolognese sauce. Pesto.
I'm an equal opportunity noodle consumer. So if I'm trying to eat a little healthier, I know I have to cut back on the pasta. Enter: spaghetti squash! I'm not going to say that if you're a noodlephile like me that you won't notice a difference, but it's actually pretty good! Give it a try!
[Tweet "For #MeatlessFriday @AbbySpirit cooks this #lowcarb Shrimp Scampi #recipe!"]
Spaghetti Squash Shrimp Scampi (S-to-the-4th-Power meal!)
To make the faux-getti:
1 spaghetti squash
Salt & pepper
Olive oil
Cut the squash in half long-ways (that's fancy recipe speak). Spoon out the seeds and use your finger to spread a good amount of olive oil along the inside and edges. Season it with salt and pepper - feel free to add some Italian spices too! Roast in a 400-degree oven for 40 minutes. If your squash is very large you'll probably need closer to 45-50. It's done when you can easily stab it with a fork. After letting it cool enough to hold*, scrape out the inside with a fork. It's super easy! Before you scrape it out, you could add some grated parmesan. Just a thought!
*While you're waiting for the squash to cool, prepare the sauce. YUM.
1 ¼ lb shrimp, peeled & deveined
4 tsp olive oil
8 cloves garlic, minced
Salt & pepper
¼ c fresh parsley, chopped (hold some out for garnish)
¼ c fresh lemon juice
½ c veggie broth
½ c white wine
1 Lemon - cut in wedges
Heat the oil in a non-stick skillet. Sauté the shrimp for 2-3 minutes over medium/high heat. Don't overcook them! No one likes rubbery shrimp! Add the garlic and stir continually for another minute then, using tongs, transfer the shrimp to a plate and keep warm. Add to the skillet all your liquids, the parsley and salt & pepper. Bring it to a boil and let it cook down until it's reduced by half. Your kitchen should smell really good right now! Remove it from the heat and put the shrimp back in. Give it a stir, then plate away! Squash first, then shrimp and sauce, garnished with a little lemon wedge and parsley. Easy!
Serves 4.
You can find all our Meatless Friday featured recipes here.
Copyright 2016 Abby Brundage.

About the Author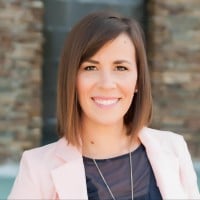 Abby Brundage Watts is a mother of two little boys. Since January of 2008 she has hosted The Big, Big House Morning Show on Spirit FM 90.5, the radio ministry of the Catholic Diocese of St. Petersburg in Florida. The show mixes inspiration, humor and family fun (and great music of course)! You can hear Abby every weekday 6-10am, EST and online at www.myspiritfm.com. She also is the co-creator of the podcast, Perhaps This Is the Moment. You can find it on all the podcast platforms.