CALM MY INNER CHAOS, BRING PEACE TO MY MIND.
My head is spinning with all that I need to do. I am not at peace, although I believe Christ can bring me peace, especially internally. I desire His heavenly calm. I want my mind to rest and I long to trust Christ with everything! My prayer calls out to heaven as I sit at a stop light surrounded by noise: traffic, my car, the radio blaring, the children in the back seat bickering. I desire His peace that surpasses all understanding.
"My heart is restless until it rests in you" -St. Augustine.
[Tweet "Do you desire heavenly calm? @emilyjaminet offers a #prayer of hope!"]
REFRESH MY SOUL
We could all use a greater dose of Jesus in our lives. We need our lives renewed and refreshed daily. I crave a new perspective on my life, especially as a mother. I desire to see my value, the eternal value of my children in the here and NOW. So often, I lose myself in motherhood and forget that the tasks I do have value in the eyes of Christ. Spiritual renewal is the only thing that will change my attitude and give me the graces I need to serve and love my family with sincerity.
ALLOW ME TO BE A VESSEL OF YOUR LIVING WATERS
I want to be holy. I want to do Your Will, Lord. I want You, Christ, to use me, a broken sinner, to touch others. I want to hold your living waters within me. You gave the woman at the well eternal water and I too want that! I want to live forever and have eternal life. I desire to be part of your kingdom.
John 4:13 "...but whoever drinks the water I shall give will never thirst; the water I shall give will become in him a spring of water welling up to eternal life."
AND SHARE IT WITH THOSE WHO NEED STRENGTH
I can't keep this living water for myself. I need to share it with others. I need to be there for the people that Christ wants me to serve today. Lord, help me to see the people you want me to minister to. Help me to love them and share with others the spiritual blessings you have bestowed upon me. Allow me to be Your hands and feet.
HELP ME TO BE MERCIFUL TO MY NEIGHBOR
It is not always easily to show mercy to others. As women, we struggle with judging others and desiring mercy only for ourselves. Help us, Lord, to extend mercy to everyone, particularly those who have "trespassed against ME." Who are the people that I need to forgive, serve and love? Show me, Lord, so that I can forgive those people and ask for forgiveness to those I have offended.
AND LOVE YOU ABOVE ALL THINGS
Women love things - we love gadgets, clothes, shoes, bags, cars, jewelry, toys, fashionable items, brand-new kitchens, Pinterest and decorations! We even love the world "FREE." The fact is, we love the things of this world! Yet, Lord, we want to love you above these things. We want to be detached and to surrender our "likes" of this world to you. We want to fill our hearts with gratitude for the things of this world and make you King of everything in our lives! Teach us how to love you above all the things of this world!
AMEN.
Copyright 2016 Emily Jaminet
About the Author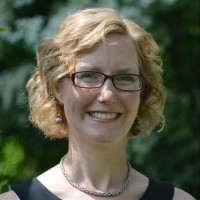 Emily Jaminet and her husband have 7 children. Jaminet is the Director of Sacred Heart Enthronement Network www.enthronements.com, shares "A Mother's Moment," a daily radio reflection, She is the co-author of Divine Mercy For Moms: Sharing the Lessons of St. Faustina and The Friendship Project . You can read more of Emily's work at EmilyJaminet.com,Divine Mercy for Moms, and The Friendship Project Book.