Then Jesus came with them to a place called Gethsemane… He advanced a little and fell prostrate in prayer, saying, "My Father, if it is possible, let this cup pass from me; yet, not as I will, but as you will." (Matthew 26:36 & 39)
Motherhood, and pregnancy in particular, brings us to the side of Jesus in the Garden of Gethsemane in a powerful way. Unlike the Garden of Eden that once held the conditional promises of eternal peace, the Garden of Gethsemane is an earthly garden where we await inevitable suffering.
Christ knew His suffering on the cross would bring new lives into Heaven. Mothers know their suffering in childbirth brings new life into the world. Christ was in agony despite this knowledge, and it is the same for mothers.
As I write these words in my 40th week of pregnancy, looking down at life moving inside of me, I know eventually this child must come out!
What mother does not pray for a smooth, easy labor? What mother when her hour has come does not think or pray, "Lord, if it is possible, ease my pain and let this cup pass me by!"
I know a woman who hit the tough part of labor and locked herself in the hospital bathroom. She said, "I'm not doing this!" And you know what? I get that. No one wants to suffer.
Yet we all must suffer with Christ in Gethsemane in anticipation of our own Calvary because of the choices of mankind in Eden.
As the snake approached Eve in the Garden of Eden, so did Judas approach the New Adam in Gethsemane. Eve fell into the temptations of the devil and coerced Adam to join her in sin. Yet Mary, the New Eve, through her childbirth and Motherhood to Christ, crushed the ancient serpent's head. This allowed Christ, the New Adam, to be strengthened and empowered by His Mother's love as He conquered satan through submissiveness to the will of His Father.
[Tweet "Adam + Eve surrendered to the serpent. Jesus + Mary surrendered to God. #TOBtalk @maviecatholique"]
Adam and Eve surrendered to the serpent. Jesus and Mary surrendered to God.
Through Mary's example, we witness the significance of childbirth and the necessity in this world of the powerful and incredible love of a mother!
Now, I've held a grudge against Eve. When I was younger, I wanted to have children, I just didn't want to have children. I didn't want to go through childbirth. I thought, "I'm going to have a word with Eve when I get up to Heaven. . .this suffering thing is all her fault!"
During previous labors, I recalled Eve's ridiculous choice to listen to that snake. If she'd had a little more willpower and trust in God, maybe I'd have a painless childbirth!
In the end, I must remind myself: I'm no better than Eve. I'm human and guilty of sin just the same.
Yet isn't it a privilege to suffer with Christ? Our time on earth is short, and this is our only chance to suffer for Him! If we go right to Heaven, no more suffering! Game over.
Consider it all joy, my brothers, when you encounter various trials, for you know that the testing of your faith produces perseverance. And let perseverance be perfect, so that you may be perfect and complete, lacking in nothing. (James 1: 2-4)
Childbirth requires suffering, but it is brief. It is miniscule. It is nothing compared to the inexplicable joy that comes from beholding the face of your child – a child made in your image, in the image of your spouse, and in the image and likeness of Christ!!!
So all of us blessed to be pregnant and carrying life into the 40th week of pregnancy do well to sit at the side of Jesus in the Garden of Gethsemane. We do well to keep watch with Him and accompany Him in this time of trial. We do well to imitate Him in preparation for our own cross and Calvary. We do well to join Him, spiritually or physically prostrate in prayer, completely submissive to the will of the Father!
May God bless all mothers for their strength and courage in following God's will!
Copyright 2016 Kaitlyn Mason
About the Author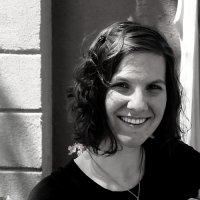 Kaitlyn Clare Mason is founder of Mary Garden Showers, a national ministry sharing Christ's mercy with women and families in crisis pregnancies. Author, songwriter, and homesteader, she is blessed to be a wife and the mother of four children. She writes to help you trust & serve the world through your home at KaitlynClareMason.com.