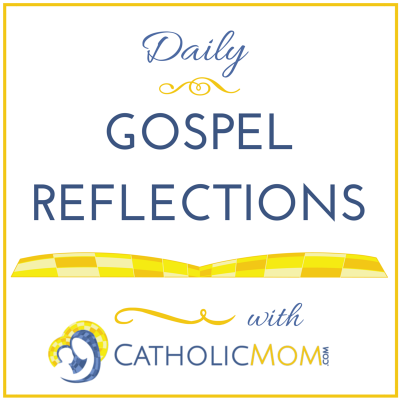 Today's Gospel: Luke 14, 12-14
At first glance this verse might cause a bit of a panic as the holidays near. Through a parable Jesus tells us that when we host a banquet we should invite the poor and the lame instead of our friends and relatives. Is He really telling us to ignore our families and loved ones? I wouldn't change the family traditions just yet.
However, we can't dismiss the strong call of this scripture to care for others. As Christians this is probably not surprising news to us. Many times throughout the Bible we are told to love and help those that are in need. And I bet most of us can think of a rewarding experience when we did assist someone.
So, this got me thinking - if we're called to help others and it fills us with joy when we do, why don't we do it more often? Why do we continuously get caught up in our busy schedules and neglect this important call?
It's simple: we are being tempted through distractions to keep us from living the way Christ wants us to.
In his book Evangelii Gaudium, Pope Francis writes, "Whenever our interior life becomes caught up in its own interests and concerns, there is no longer room for others, no place for the poor. God's voice is no longer heard, the quiet joy of his love is no longer felt, and the desire to do good fades."
Well, we certainly don't want that! So how do we keep ourselves from caving to these distractions? I believe we need to move this part of our lives up the list of priorities, and make a commitment to seek out opportunities to serve the less fortunate. For when we do, Jesus tells us we will be blessed.
Ponder:
What a wonderful reminder as we head into Advent. We have the ability to give the gift of ourselves to others, which in turn is a beautiful gift to God. Think of several ways you can make a difference and mark them on your calendar.
Pray:
Dear God, show me how to use my gifts and talents to serve the poor, the maimed, and the lame. Christ, give me strength to fight the temptation of distraction and instead to serve others with a giving heart. Amen.
Copyright 2016 Leslea Wahl
Leslea Wahl is a Catholic Young Adult writer. Her mission is to reach teens through fun, exciting, adventurous fiction infused with positive messages and Catholic values. Her novel "The Perfect Blindside" is available on Amazon or through Pauline Books and Media. You can find out more about her vision on her website LesleaWahl.com.
About the Author