For National Vocation Awareness Week (November 6-12, 2016), what can families, even those with young children, do to promote vocations? In a word, pray. Rather than simply adding vocations to the priesthood and religious life to a long list of intentions (still a good thing!), participating in a program such as the Vocations Chalice can foster an appreciation for priests in particular in a tangible way.
According to the United States Conference of Catholic Bishops (USCCB), "praying for vocations is the most powerful way to support vocations. A vocation is a call from the Holy Spirit, a gift from God that is nurtured in prayer. When we pray for vocations, we lift up to our Father those men and women whom He is calling to follow Him in a very special way. We hope that those who bring the cup home will continue to pray daily for vocations."
Our Catholic faith, with its sacraments, sacramentals, and smells and bells liturgy, appreciates that we often need physical reminders of spiritual realities. Our recent family experience with a vocations chalice underscored that truth.
[Tweet "Pray for priests with a #vocations chalice. @CMAstfalk has details!"]
My third-grade daughter brought home the chalice for one week with the instructions that our family was to use it to pray for priests. My diligent eight-year-old was very careful with the chalice, making sure it was safely in its protective bag each night and (we hoped!) out of reach of her younger siblings.
In truth, I spent the week half afraid I would discover my youngest children playing with the chalice. And not pious "let's play Mass" playing. I'm thinking glubbing orange juice or slurping pasta as if we'd brought home a miniature version of the Stanley Cup. To my relief, no harm came to the chalice while it was under our care.
In fact, the little kids seemed to appreciate it by showing as much reverence as any three- or five-year-old could muster. Each evening at bedtime, when we gathered for prayers, my third grader made a special effort to see that we were all present. (Because of the varying ages of our children, their activities, and bedtime routines, we sometimes split into separate groups at bedtimes.) She would carefully bring out the chalice while we prayed. When the little children were allowed to hold it, their eyes lit with appreciation.
The week presented a special opportunity for me to recall the many good priests who have touched my life as a child, a student, a young adult, a not-so-young adult, and as an employee of the church. My daughter, who's only known a handful of priests, chose to pray not only for our current and former pastors, but also for Father Tom Uzhunnailil, an Indian priest in Yemen abducted by suspected ISIS members.
My daughter's teacher at Seven Sorrows of the Blessed Virgin Mary School in Middletown, Pennsylvania, Kate Hicks, "enjoy[s] hearing back from my students, as they share how they've prayed with their families and who they prayed for. Sometimes, I even discover that they have a priest in their own family!"
Mrs. Hicks said that the opportunity to introduce the chalice program in her classroom fell into her lap. "I was just hired for my second teaching job and while cleaning and organizing the materials left by the previous teacher, I happened upon a chalice - one that was used to teach liturgical objects used during Mass. I took it as an ordained opportunity to pass on to my students the importance of praying for priests and religious."
The impetus to encourage the children came naturally to the Franciscan University graduate, whose family had close ties to the Franciscan Friars and Sisters of the Renewal as well as a habit of praying for priests. That habit persisted in college, during which her household prayed for priests by name in their weekly recitation of the Rosary.
"The prayers of the little ones are so strong, as they are so genuine," said Mrs. Hicks. "Who better to pray for those in our Church who need it the most? Our priests, deacons, sisters, and brothers are met with so much opposition, especially in this day and age. Not only do they need our prayers for strength, but we also need to pray for an increase to vocations."
I asked my daughter why it's important to pray for our priests. "Because they spend their entire lives serving God, and sometimes it might be tough for them," she said. "They're devoted to the church, and it might be tough to do the stuff they do every day."
For more information on establishing a Chalice Program at your parish or school, visit the USCCB's Chalice Program page. Outside of a school or parish, it is easily adaptable to a ministry group or the home.
Copyright 2016 Carolyn Astfalk
About the Author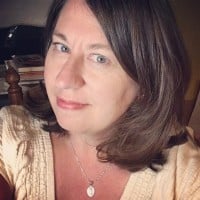 Carolyn Astfalk is a wife, mother of four young children, and a writer. Her contemporary Catholic romances are available at Amazon.com. She is a member of the Catholic Writers Guild, a Catholic Teen Books author, and blogs at My Scribbler's Heart. Visit CarolynAstfalk.com.