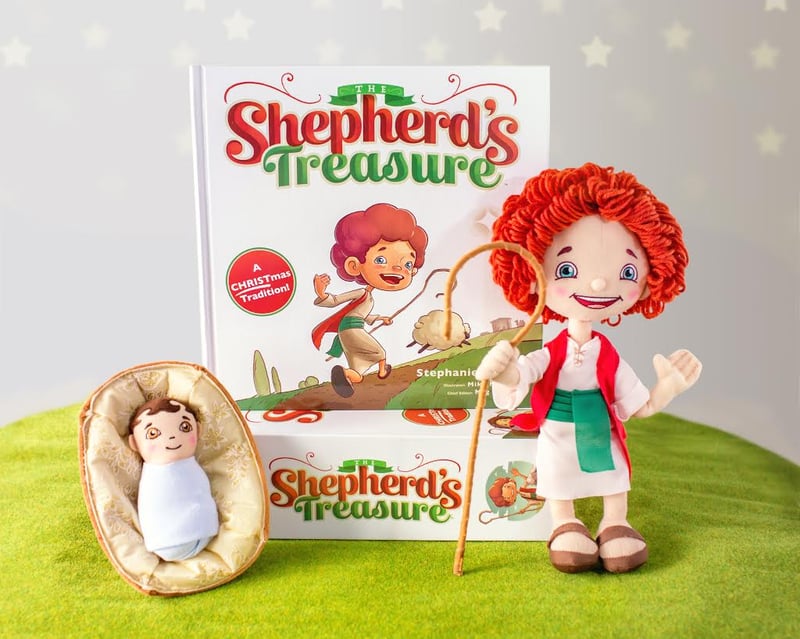 I love Advent. I could sing "O Come, O Come Emmanuel" alone for weeks on end, and never get tired of it. There is such richness, simplicity, humility, and beauty in our Lord coming to Earth in the form of a precious newborn child. I almost think I love Advent more than Christmas. And it's important to me that my children know this time of year isn't just about presents, Santa, and reindeer (though we appreciate those, too).
[Tweet "Enter our #giveaway of Shepherd's Treasure #Advent gift set. @LindsaySchlegel reviews the prize!"]
I was thrilled, then, when offered the opportunity to review The Shepherd's Treasure set with book, Shepherd, Jesus in the manger, and Advent Cards.
[embed]https://www.youtube.com/watch?v=pNFat64Nuf4[/embed]
The Shepherd's Treasure is a new, interactive family tradition that helps children find the TRUE meaning of Christmas! On the first day of December, your Shepherd will appear and your family adventure will begin! Your Shepherd will travel by night throughout the month in search of Jesus. Each morning, your children will find him in a different place (and maybe even doing a different activity) in your home.

The Shepherd's Treasure Advent Cards correspond with fun activities the Shepherd can do throughout the month. Each card features a Bible verse and message from the Shepherd! Little ones will follow behind their Shepherd along his journey. Then, on Christmas morning, your children will find their Shepherd kneeling before the greatest Treasure of all time: Jesus! The search doesn't stop there though! My prayer is that this fun treasure hunt will result in a more lasting search to find Jesus every day!
My oldest is an avid reader, so the first morning our Shepherd—we named him Jonah—appeared on the living room couch, he was able to read the storybook aloud to his younger brother. On the first read, they noticed Bible verses hidden in the illustrations, and hatched a plan for looking them up, one day and one page at a time as we approach the Big Day, aka Christmas.
As a mom, I am crazy busy in December, and I welcome something the kids can have fun with as they continue to learn about our faith without too much direction from me. The dolls are bigger than I expected, and the Shepherd is poseable, so he'll stay where you put him. The Advent Cards encourage discussion. I love that we'll have a verse we can return to at different times of day—perhaps for before-school prayer, grace at dinner, and bedtime. My favorite part of the whole package is the daily ideas of where to move the Shepherd each night. Take a peek!
We've done Jesse trees in the past, and my oldest really enjoyed looking up the Bible passages that corresponded with each figure on our tree. The verses on the Advent Cards align with the ones hidden in the book. This is great, because your child has a couple of different avenues to get the same message.
Even my youngest is getting involved. When she found Jonah on the shoe rack in the morning, she picked him up and tucked "Baby" into the doll crib.
I'm excited to breathe new life into our Advent preparations with our Shepherd this year—and super excited to offer you, dear reader, a chance to win a set of your own! Enter here to win The Shepherd's Treasure kit and Advent Cards—a $43.95 value.
The kind folks behind The Shepherd's Treasure have also created an exclusive offer for CatholicMom.com readers. Use code CATHOLICMOM for $10 off your order through 12/31/2016. Consider using it on a combo pack for both your family and one in need! (I love that!)
Good luck, and God bless!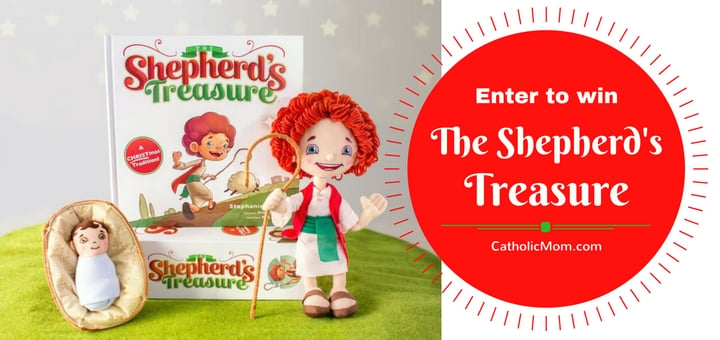 Read more articles in our 2016 Advent Guide.
Copyright 2016 Lindsay Schlegel
About the Author