Back in the fall I shared tips for parents about how to talk to your "tweens" (young, middle-school-aged teens) about the Theology of the Body. I've said it before and I'll say it again because it's important: If you aren't already having regular conversations with your young teens about God's plan for human sexuality, the time to start is yesterday. Your teens live in a culture obsessed with sex. They encounter false messages about love, sexuality, and their bodies every day. And though it can be a tricky subject to navigate, your teens need you to have real conversations with them about human sexuality.
[Tweet "4 tips for talking about human #sexuality with your tween."]
How? Here are 4 more tips for helping tweens have a healthy understanding of human sexuality:
Help them cultivate a relationship with the Holy Spirit
The Holy Spirit is real and wants to help us. At our baptism we are given the gifts of the Holy Spirit, these gifts are necessary for the Christian life, including using the gift of our sexuality. The Holy Spirit helps us to recognize the good and to do what is right. You can help your tween cultivate this relationship by praying with them to the Spirit, encouraging them to ask for His help, providing time and space for quiet, and sharing how the Holy Spirit is at work in your own life.
Equip them with the necessary knowledge at each stage of development
Tweens and teens have lots of questions about human sexuality, and those questions are natural and good. Parents face temptations to two extremes: over-sharing and under-sharing (though, from experience, I suspect more fall in the under-sharing category). We want to protect their natural innocence while we can, so a good rule of thumb is to answer the questions they are asking, and leave the ones they're not for another day. At the same time, our desire for modesty and reverence can keep us from giving young people the good information they deserve.The danger of under-sharing is that it turns the sacred into a "taboo." Young teens need to know how their bodies are good and manifest God's plan for human love, so they aren't tempted to think of human sexuality as bad; and they need to know how those bodies work, especially as they approach puberty.
If we want them to talk to us about sex (and we should), we have to be willing to talk to them about sex. We live in a world where the answer to every question is a click away (and teens know all about incognito searches); if you don't answer their questions, Google will. (Topics to be prepared for: changes in their bodies, functions of sexual organs, sexual desire, pornography). Ask the Holy Spirit for His help when questions arise so that you can discern how to best answer it for your child and in a way that manifests their goodness and God's plan for love!
Help them practice virtue
Tweens and teens face lots of temptations against the good of their sexuality. (More here.) Helping them practice virtues allows them to recognize the good, strengthens them against temptation, and cultivates their masculine and feminine gifts so they can use their energy and creativity for the good of others. God has given young women a special ability to receive and nurture others; practicing gratitude, hospitality, good listening, affirmation, intercessory prayer, generosity and modesty can help them to grow as women of God. To young men, God gives a special call to protect and sacrifice for others; so practicing generosity, self-sacrifice, fasting, temperance and fortitude will help them grow in masculine strength.
This one is the most important one; it's also the most difficult, because it's a "conversation" that doesn't end. How we live speaks to others. If our children see - day in and day out - love lived well, they will intuitively recognize the truth of God's plan and reject the lies of the culture. The opposite, though, is also true. If our actions don't reflect our words, we expose our children to scandal. If we talk to our teens about modesty and mutual respect and share with them the goodness of human sexuality, but then watch TV shows and movies that are sexually explicit, or dress revealingly, or use crude language, then we confuse the message of the Gospel. So, as we help our children cultivate their spiritual lives, we must be vigilant in cultivating our own.
Copyright 2017 Megan Swaim.
About the Author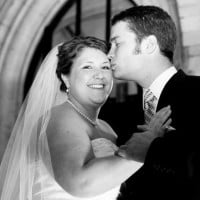 Megan Swaim is an Indiana girl on an east coast adventure. A former high school youth minister, she now gets to minister full-time to her three young daughters and her husband Josh. Megan spends her days homeschooling at the kitchen table, drinking iced coffee, and exploring coastal Virginia.