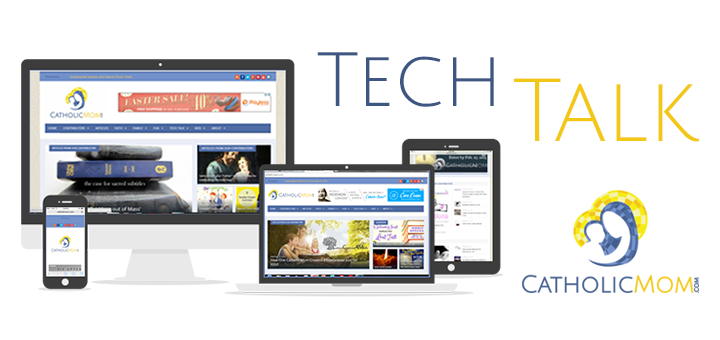 Did you ever wonder what the CatholicMom.com writers' voices sound like? You can listen to some of our contributing writers on their podcasts!
Podcasts are ideal for busy moms who spend time in the car, folding laundry, cooking dinner, working out, or scrubbing bathtubs.
I do all those things while I listen to podcasts. I can have one earbud in and one out as I putter around the house getting things done and listening and learning at the same time. If I'm walking laps around our parish gym (open during the day as a free exercise venue, where 20 laps = 1 mile) I'll cue up a podcast, pop in my earbuds and before I know it, my mile is complete. On my way to a faraway soccer game, a podcast beats radio-station roulette, any day of the week.
[Tweet "Listen to podcasts by writers from @CatholicMomWeb! #techtalk by @franciscanmom"]
Want some suggestions for good podcasts? You're sure to find one (or more) that fits your interest.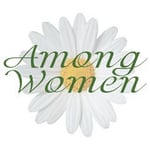 The Among Women podcast, hosted by Pat Gohn, celebrates the beauty and grace that women experience in their Catholic faith and life. Founded in March 2009, Among Women centers not only on faith sharing among women, but faith building … inspiring women in their call to holiness by encouraging them to draw closer to Christ and the Catholic Church. This podcast is updated about 3 times per month, and varies in length from about 1 hour to shorter but powerful "espresso shots."

Abby Brundage of Spirit Radio in the Tampa Bay, Fl area hosts The Big Big House Morning Show, which produces a podcast roughly 4 times per week. If you can't listen to Abby's show live, subscribe to the podcast! It's a casual format and very relatable: a fun mix of pop culture, family life, parish life, and more.

The Catholic Vitamins podcast is hosted by Deacon Tom Fox and his wife Dee. Each week, they bring on a guest to help us explore a faith topic (a 'vitamin'). Bishops, priests, nuns, deacons, professors, authors, singers, musicians – they've been blessed to have many of these as guests, as well as regular correspondents who add their own perspective on faith matters. This podcast has run for over 7 years!

The Chimney is a micro-podcast, created by Tommy Tighe, that's "dedicated to bring you what's trending in Catholic social media . . . as often as we can." Under 5 minutes per episode, this is a quick and entertaining listen. Each episode features the crowning of the Ultimate Catholic Hipster, as well as the Turds and Tulips segment, in which Tighe spotlights the best and worst tweets of the week.

Colleen Spiro's monthly podcast, Finding God in the Everyday, is a celebration of how she experiences God in the big and little things of everyday life. Colleen is a convert, a Benedictine oblate, an author and certified spiritual director, and wife of a permanent deacon. You'll find 10 episodes in the podcast archives.

Girlfriends by Danielle Bean is a weekly podcast dedicated to helping women to "know your worth; find your joy." Danielle Bean is a voice of encouragement, humor, and practical support for women in all walks of life. Danielle interviews a new guest each week and takes on topics that include health, fitness, time management, work, homemaking, motherhood, marriage, parenting, and practical spirituality.

On the Priest Podcast, Peter Serzo interviews priests about their path to priesthood, their daily lives, and how they craft a homily. Peter asks priests the questions we all have! Learn what priests love about their faith, how they write their homilies, and how they got started in following their vocations--and more.

Erin McCole Cupp doesn't just write books, she hosts interactive events to talk about the role of reading fiction in the development of the whole person, the healing of relationships, and the revitalization of the human mind, heart and soul. Sabbath Rest Book Talk is a Facebook Live series that is archived in Erin's YouTube channel: a new re-imagining of the podcast definition.

A Seeking Heart with Allison Gingras is a podcast about books--and so much more! Discussion, interviews and laughs focused on living the Catholic faith in your everyday ordinary life ... think of it as your on-air book club! Podcasts are released 5 days a week following the Breadbox Media radio show of the same name, airing at 10 AM Eastern.
Once you get started listening to podcasts, you're sure to find more and more that suit your particular interest.
Do you enjoy podcasts? Which ones are your favorites?
Read more of our Tech Talk columns.
Copyright 2017 Barb Szyszkiewicz, OFS
About the Author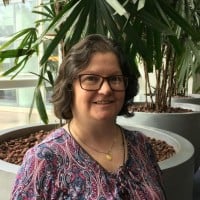 Barb Szyszkiewicz is a wife, mom of 3 young adults, and a Secular Franciscan. She is editor at CatholicMom.com. Barb enjoys writing, cooking, and reading, and is a music minister at her parish and an avid Notre Dame football and basketball fan. Find her blog at FranciscanMom and her family's favorite recipes with nutrition information for diabetics at Cook and Count.