I sat in the pew as the First Reading began. My newborn son started whimpering for milk, and I quickly tried to quiet him so that I could hear the lector. Words of praise for Jerusalem drifted past my ears as I struggled to both listen and juggle my baby simultaneously. In the slight chaos of the moment, there were only a couple of lines which I managed to hear from the entire reading:
"Oh, that you may suck fully of the milk of her comfort, that you may nurse with delight at her abundant breasts . . . As a mother comforts her child, so I will comfort you; in Jerusalem you shall find your comfort." ~Is 66:11, 13
I smiled wryly. How ironic, I thought, grasping my baby awkwardly as I tried to latch him onto my breast correctly. As I continued to sit there and hold my child, I thought about these words of Scripture. God gives us a very vivid picture of how He desires to care for us: like a mother breastfeeding her child. This imagery may seem uncomfortable to people who are unfamiliar with breastfeeding. Yet, I think it is important that we set aside any discomfort or awkwardness and really think about the picture that God gives us.
When I pull my son to my chest to feed him, he has to be completely vulnerable and let me care for him. Sometimes, my baby—though he is hungry—stubbornly resists my efforts to feed him. He flails and tries to squirm out of my arms, and this only makes it harder to give him food and comfort. When, however, he calmly relaxes in my arms, the comfort and food that he desire come much more quickly. He truly does "suck fully of the milk of comfort," as he trustingly lays his arm on me while he eats, eagerly receiving his nourishment. I'm able to feed, caress, and speak gently to my child, reassuring him of my loving care.
[tweet "We need to follow the example of a breastfeeding baby, especially in our current world."]
We need to follow the example of a breastfeeding baby, especially in our current world. We live in a place that is faced with tragedy on a daily basis. Acts of terror and violence fill us with horror, and sorrows or stress can weigh us down. In times like these, we must place our trust in God. As a mother breastfeeding and comforting her child, God wants to hold us close, nourish us, and wrap us in His peace. If we stubbornly arch our backs, squirm, and resist, it will be harder to quiet our souls and experience His comfort. Instead, we should release our obstinacy, fears, or worries and relax in God's loving arms.
The Lord reassures us that "As a mother comforts her child, so I will comfort you." In response to these words, let us follow the example of newborn babies and become vulnerable, clinging to God with complete trust and hope.
Copyright 2017 AnneMarie Miller
About the Author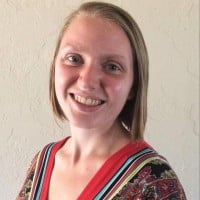 Eagerly seeking new adventures each day, AnneMarie enjoys life in Oklahoma with her husband and little boy. She has a passion for the Faith and particularly loves learning more about the Liturgy, saints, and various devotions. AnneMarie's musings on Catholicism, literature, and motherhood can be found on her blog, Sacrifice of Love.