Pope Francis's apostolic exhortation, Amoris Laetitia (The Joy of Love), interrupts the long line of apostolic exhortations with a unique and rather refreshing tone. It is a rich reflection, but deeply grounded in the practical realities of marriage and family life. He speaks to me in my experience of marriage and to so many in his admission of the challenges and hurdles that all families face in trying to create a life together. But he doesn't leave us hanging in our weaknesses, simply commiserating because, "misery loves company." Rather, he really calls us to faith in the work of Christ in the sacrament of marriage, to refine us and unite us over the course of our journey together in love. He calls us to mission, to evangelize one another with joy amid our weaknesses. He challenges us to love one another as we are, not because of what we think the other should be.
[tweet "Unpacking Church teaching on #marriage with @CatholicFC in #Relationships series"]
Keith and Tami Kiser unpacked this message in a laid-back and non-threatening way in "Relationships," the the new up-and-coming video teaching series by Catholic Reflections 4 Women. This series explores the different relationships women experience throughout their life journey. Keith and Tami's focus was on "Your Relationship with Your Spouse: A couple of Insights from Pope Francis." In 18 palatable minutes, they shared simple, practical and personal insights that I found easy to recall and implement in my own marriage.
As Keith and Tami began I wondered if they would stay on the surface of what marriage is, perhaps just theorizing and patronizing the Pope for his apostolic exhortation. Thankfully, they chose to truly embrace the spirit of the exhortation and get "real" with it. Love is patient, love is kind, etc. -- sounds good, but how do we live this? What does it look like? This is where they stretched themselves out of their comfort zone to share personal experiences of choosing to overcome self-centeredness by embracing the reality that the Pope shares, "that people have the right to live in the world just as they are." Patience means embracing that your spouse will unsettle you or annoy you or be less then you expect them to be and serving them anyway.
Keith very beautifully shared about the profound work of marriage on a couple over time. This struck a deep chord with me as my husband and I can relate very closely to the Kiser's own experience of being a young couple disillusioned that our wealth of theology and solid formation in the faith wasn't enough to keep us from tumbling into the brambles of a difficult marriage. Keith shared how early on they too asked the question that we did: "Is this going to be a happy marriage and what is it going to take to get us there?" Like the Kisers and the Pope describe, the work of marriage is the design of God for us. The Pope says "Love makes us each wait for the other with the patience of a craftsman, a patience that comes from God." I rejoice in this reality that simply by staying with it, despite the woundedness, the failures and the messes we make of our marriages, over time, we become like fine wine, getting better with age.
In closing, like the Kisers, my spouse and I have chosen to allow God to call us despite not being perfectly "qualified" by our marriage success record. We reach out and witness to others through out own ministry to families (heroicfamilies.com). In so doing, I am more convinced then ever, that by not being afraid to talk about the struggle, the real examples of life and painting the theology into our messes, we are growing in own marriage even as we effect growth and inspiration in others.
I appreciated that this simple video did just that for me. They didn't claim to have it all figured out, but they clearly are on the path of seeking wisdom from the right places (the Holy Father, the Church, etc.) and are trying to put it into practice. I believe that many couples will find their simple message heartening and encouraging. Even if right after they finish listening they are faced with the taxing realities of family life yet again, at least they will have some new practical nuggets to put into play. The greatest nugget of hope for me was from Pope Francis, "One person can always surprise the other, and new doors can open for their relationship, as if they were meeting for the first time." Keep your eyes peeled for the opportunity to be the one to surprise the other.
See more reviews of the Relationships series.
Copyright 2017 Chantal Howard
About the Author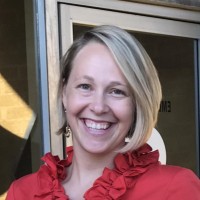 Chantal is a wife and mother of five children. She is a national speaker and author of The School of the Family and The Family Rule. As an essential oil coach, she seeks to help families become healthy, holy and free. Visit Chantal-Howard.com to learn more.