"This is my commandment, that you love one another as I have loved you." – John 15:12
Have you ever considered the idea of loving yourself the way God calls us to love all people? I mean, you too are people, right? What if God's command to 'love one another' includes loving ourselves?
We can only give what we have. If my inner love reserves are low or empty, my capacity to love others is impacted. We've all had those days that call on us to give, nurture, listen, empathize, give, and give some more. My 'giving' begins to look and feel a lot less generous as I become more tired and depleted. And my empathy starts to feel less and less empathetic and more and more impatient!
In those moments, I've found two 'love-reserve-boosting' strategies that work beautifully:
Providing words of encouragement and support for myself
Receiving words of encouragement and support from God
When I try to love people from empty reserves, without first being filled with God's love, it is just noise and nonsense (Reference 1 Corinthians 13:1-2).
[tweet "From our inner love reserves flow our capacity to love others well. How full is your own love tank?"]
When I am worn out, overwhelmed, fed up, and empty, I've learned to give myself encouragement and permission to take a pause. That might sound like, "De, you're doing a good job. There is a lot happening today, huh?! Take a breath. Sit for a moment. Be filled with the Holy Spirit and receive His Love."
"So we have come to know and to believe the love that God has for us. God is love, and whoever abides in love abides in God, and God abides in him." - 1 John 4:16
This Valentine's Day, let's work on actively receiving God's love, pulling it in and allowing it to fill us up. And let's practice giving our love to ourselves too. First, even.
[tweet "Work on actively receiving God's love this #ValentinesDay. By @Deyarrison"]
'But how do I love myself,' you might ask?
Daily Self-Affirmation
One way is through the practice of daily self-affirmations. Repeating a daily affirmation is one simple, yet powerful, gift we can give ourselves this Valentine's Day (and everyday!).
The gift of encouragement (rather than criticism)
The gift of self-support (rather than judgment)
The gift of peace-of-mind (rather than stress & worry)
Click on the image below to download a Daily Affirmation Card Template. Print out the ones you like best and write your daily affirmations on them. Post these little love notes to yourself around your home or workspace. You can make some for your mate and your children too.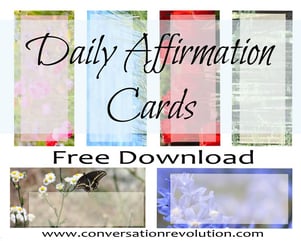 Not sure what to write? Below are a few self-loving affirmations to try on. Some are based on St. Paul's lines from 1 Corinthians.
I am patient with myself.
I am gentle with myself.
I am forgiving of myself.
I am a good mom.
I am handling all things with grace today.
There is nothing I cannot face. I hope all things. I endure all things.
I can do all things through Christ who strengthens me.
I am giving my best today and I am enough.
Do one or two of the statements above resonate for you? Write these on an affirmation card. Or create your own affirmations that feel more resonant. Consider scripture verses or quotes that are uplifting or soothing to you.
May our Lord fill you with His amazing love this Valentine's Day and always!
Copyright 2017 De Yarrison
About the Author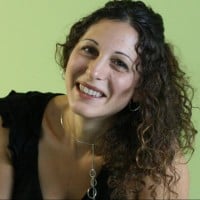 De guides women along the journey to spiritual and emotional healing, through coaching, deliverance prayer, and healing retreats. At YouAreMadeNew.com, De walks alongside women as we grow, heal, and discover the abiding presence of Christ within our own hearts. De invites you to join the Catholic women's community, Hope's Garden, which she cofounded.