Today's Gospel: Matthew 6:24-34 - Eighth Sunday in Ordinary Time
Our greatest problem is not serving others over serving God; it's serving ourselves before all else. We organize our own plans in great detail, but if something goes wrong, we turn to Him. We know what He says about not worrying, but we only apply that after we have planned our day. We know He says don't concern ourselves with what we wear or eat, but we only follow that after we have completed all of the shopping we think we need.
We are afraid to trust Him at His word.
Oh, He's not going to take over our kitchen and cook supper, but what if we didn't revolve our day around what we need to eat or cook, and spent more time in prayer. Panicked? That's when you trust Him. He wants us to be with Him. Try taking more time to pray, attend Eucharistic Adoration, or serve others, and less fussing over a complex new recipe or having the latest cooking gadgets. He will give you the time and food you need if you let Him.
And what about clothing? Are you regularly running to the mall for the latest fashion for yourself, or your kids? Do you really need more clothes? Do they? Your beauty truly comes from within, and a glow of generosity and kindness is a better make-up than any you can buy.
Trust Him. Pray to Him before you make the next purchase or organize your next set of menus. Listen to the plans He has for you, and allow Him to be your Master. You won't regret it.
[Tweet "Pray to Him before you make the next purchase or organize your next set of menus. By @cmroberts1028"]
Ponder:
Stop and examine your day. Do you really need to run around as much as you do? How can you slow down, take more time to be with Him, listen, and trust in His plans?
Pray:
Lord, give me the grace to empty myself of my plans and my pride, and allow your plans to be mine to humbly follow.
Copyright 2017 Cynthia Millen
After marrying her husband, Jim Roberts, in 1980, Cynthia Millen graduated from law school and practiced in Ohio for a short while. Excited about having a large family, Jim and Cindy were blessed more quickly than expected with the birth of five children in four years (two set of twins). Her love for reading and writing grew into the publication of several children's books (under the name C. M. Millen), poems and short stories (including a 2014 Tuscany Prize winner). Millen earned her Masters in Literature from Trinity College, Dublin, and relishes the teaching (and learning) of reading, writing, and grammar with middle school students at Christ the King School in Toledo, Ohio. Most of all, she treasures attending Mass there with wonderful parishioners and truly marvelous priests.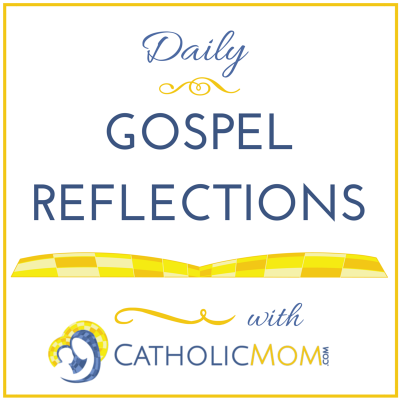 About the Author