A lot of my friends and family have gotten rid of sweets, pies, cakes, and other goodies during Lent. Since I already had to give up those things to follow my special Paleo diet to control an auto-immune problem, I decided to give up one of my other favorite carbs - potatoes and all of their delicious forms- baked, mashed, hashed, and French fried!
As biochemistry would have it, losing those carbs and going to a lower-carb option of sweet potatoes and cauliflower has had some positive results on the weight scale!
My son the EMT has decided to spend extra time this Lenten season learning Spanish. A lot of his patients are Spanish-speaking. To be better at serving his patients, he wants to improve his communication skills. I understand that so far he knows all of the major food groups!
So it might be that by the end of Lent, I will be slimmer and he will be on his way to becoming bi-lingual - and that's a good thing! I've read a couple of articles about Lent and the Lenten sacrifice and how we shouldn't fast, abstain and sacrifice for ourselves - and that's very true! Our focus should always be on coming closer to God.
[tweet "Tangible rewards can motivate us to make our #Lent sacrifices more fruitful. By @mrsL"]
But while we journey in the desert of Lent in the flesh, I think it's nice to have some tangible measurement of how we are doing! Such little rewards can keep us motivated to carry on and make the Lenten practices more fruitful! This is coming from a middle-aged mom who has spent many Lents struggling to get started and then wondering where the time went on Easter morning!
So in my opinion, it's okay to lose a little weight, gain a new skill, keep track of those rosaries or extra penances - as long as we remember that they are a means to an end - and that end is becoming holier this Lent!
Copyright 2017 Elena LaVictoire
About the Author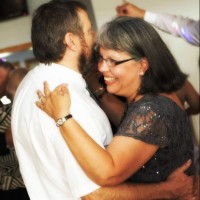 Elena LaVictoire is a graduate of Baker College and a retired medical transcriptionist. She is married and homeschooled six children. Elena is a public speaker on the topics of marriage, homeschooling, and confirmation preparation. She was also a contributing author to The Catholic Mom's Prayer Companion. Elena practices and performs with her flute and records with the Peace Together Choir. She blogs at MyDomesticChurch.com.