Close your eyes and picture your childhood best girlfriends. Ok, who had your best friend forever (BFF) pass thru your mind's eye before you even closed them? Since most women are relationship oriented, we remember forever the good times with our friends. Most of us don't even have to pull out the old photo album or look in the computer folder marked pictures, because those Kodak moments are etched in our memories, no camera needed!
Surprisingly enough, I was never much of a girlfriend gal before marriage. Moving every year as a youth was not conducive to long-lasting friendships, so girlfriends were few and far between. It was not until high school that I found myself with a BFF. Her name was Sarah. In the short span of high school life Sarah and I shared experiences that will remain always in our memories. We also shared our wardrobes, our families, and our lives in detail. Sarah and I, now "seniors in life," have lived on different coasts most of our married lives, but this distance is shortened by being only a phone call away. Sarah is still one of my first phone calls when life's journey takes me to the valley of despair or to the mountaintop of great joy. Our girl talk immediately takes us back in time to being the two high school girls who knew each other so well, even better than family members. After all, Sarah was like a sister to me. Sarah still is a BFF, my best friend forever.
Once married to my Patrick, I was compelled to explore the world of girlfriends. The women out there who like me, balked at the idea of a close female confident in the early years of life, embraced the relationship when they became moms. Motherhood is a world all of its own. New moms have questions. Since newborns don't come with directions, many moms ask the question, "What's a mother to do?" Inevitably, a new mother quickly realizes she needs other women, and not just to answer her questions. In addition to advice and wisdom, she needs support. Moms need to walk along with another woman who has the road map, who has already done the motherhood journey. Another mom has a way of understanding postpartum depression, nursing a baby, sleepless nights, and colic better than a husband and better than a male physician. Moms haven't just read the books on the issues they face in their daily life, or Googled their problems; they have lived them. A strong bond forms with the girlfriends who have gone through the childbearing years together, a bond that will never be broken.
These girlfriends can discern that we need a day at the spa, even though we are sure we need to run away to the Hawaiian Islands and leave behind no forwarding address. These girlfriends will talk for hours on the phone with us to get us through a relationship problem. Even if we say, "I'll never speak to that person ever again," our girlfriend never judges us. After a good cry and some heartfelt advice from our best girlfriend our hurts are washed away, and we decide that we were over reacting, hormonal, or both. A girlfriend has a way of reminding us that the relationship is always more important than who was right or wrong. A girlfriend has a way of reminding us that this too shall pass, in a way that it seems believable. We decide she is right; it almost always does.
[tweet "Why @MonganEllen recommends girlfriends' retreats."]
Nowadays my view of girlfriends has changed dramatically; from friends to sisters in Christ. God knew I needed a friend that sticks closer than a brother. The Book of Sirach reminds us, "A friend is a friend at all times but it is in adversity that they become a true sister." Over twenty years ago I began to form a friendship with a group of four women, who we now call, "4 for the Mountain Top Sisters!" We began getting together first as a monthly lunch bunch. We found we had a lot in common: all Catholic, all married, all moms of many, all wanting to know God, love God and serve God. On our monthly get-togethers, we laughed, cried together, shared our lives, and soon shared our hearts.
It was not long before someone suggested, "Let's go away together on a retreat." The plan was set in motion in no time at all. We found ourselves at one gal's parents' mountain house with Jesus as our retreat master. It was glorious. Just like Peter, James and John at the Transfiguration, none of us wanted to come down off the mountain at the end of the weekend. We all knew we had to. The retreats became a refreshment from the everyday routine of life. At the end of the weekend we all return to our families with a new skip in our step and a smile on our face that glowed from being with Jesus and true friends.
When my three best girlfriends, Anne, Debbie, Pat and I go away on a get-away weekend retreat, rarely do we check our email or watch television until our eyelids close. No rather, we shop until we drop, maybe take in a movie, and of course we enjoy good food and fine wine. We sit in the sunshine and enjoy the view, and always talk until we have no voice left. These are the activities we do for enjoyment. We also feed our souls by going to confession, assisting at mass and sometimes visiting Jesus in the adoration chapel. We pray for and with each person we meet on the weekend, from the waitress who serves us at lunch, to the maid who cleans as we leave. On the last night away we each take a turn to not only share in depth what is going on in our lives but also unveil what is going on in our souls. Then we pray for each sister individually, give practical advice, rejoice in their good news and sorrow in their sorrows.
Girlfriends listen with their hearts, instead of their ears. Girlfriends are ever ready with a kind caring reply, and a Kleenex to wipe our tears away. Besides girlfriends rarely say, "We will talk about it later," because they know some things just can't wait. We, the "4 for the Mt. Top Sisters," are there for each other thru thick and thin; in all ages and stages of life. Since all of us live now in different parts of the South, we keep up on a daily basis with group texts and connect with frequent phone calls and e-mails. We still try for our monthly lunch bunch and look forward to our retreats.
This year I bought each of us a framed poem on sisters. I presented the gift to each of my retreat sisters. I instructed them to write on each sister's matting one quality they saw in that sister. The poem says it all but the personal qualities written down from the heart make it our own. My picture sits on my desk reminding me of the faithfulness of God. You see God taught me a long time ago to pray that He would give me the friends that He wanted me to have. "God gives His best to those who leave the choice up to Him." These three girls are more than friends. The journey we have taken together has made us sisters.
As we look back over our journey as the "4 for the Mountain Top," we have all come to realize that these retreats were not only a good idea but more importantly a work of God. Now I share with other women how to begin a "4 for the Mountain Top" journey of their own. I think that all women need three best friends to go with them yearly to the mountain of God to seek His face, rejoice in His love and rest in His presence. Women need women in their lives who speak the same language and understand with their hearts
I felt so strongly about our retreats that I am in the process of completing a book titled, "4 for the Mountain Top," about our journey. I asked each of them to add a chapter to the book. When I tell them the title of the book, we all laugh together because we usually go to the beach. We cry together when we look back over our twenty-year journey, because we all know it has been designed by God. We always look forward to getting away together because our retreats are different every time. One thing always remains the same, God always shows up. The work He does is done on the inside of our hearts, where He alone sees. He has done a great work and we are all grateful to have been a part of this work of God. On the journey of "4 for the Mountain Top" retreats the lessons learned, time together, tears shed and life events celebrated will be etched in our memories forever. They will always be my Girlfriends, my Sisters, my BFFs.
Don't get me wrong, there is nothing like a man, especially if your man looks like George Clooney, like my guy. However, there are days in a girl's life when a man just will not do. On days like that you know what to do ladies, call a girlfriend. If you think about it, sometimes a girls' getaway retreat weekend, may even top running away to a Hawaiian island, unless your husband already booked the flight. In that case my response is, "I'll pack my lei and my bathing suit in five minutes. I won't forget the sunscreen either." Then with a permanent smile on my face, I will bid you all, "Aloha!"
Copyright 2017 Ellen Mongan
About the Author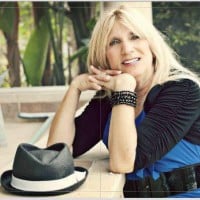 Ellen Mongan is a Catholic writer, speaker, and host of WOW MOM podcasts. Her book, WOW MOM: A Walk with God, is on Amazon. She contributes to Catholic Mom, Women of Grace, and Augusta Chronicle. Her most important roles as wife to Deacon Patrick and mother of eight led her to ministry. Learn more and contact her to speak at EllenMongan.com.