I would wager that mental health issues are especially prevalent among the devout who are serious about their inner life because when people tackle deep inner issues which prevent God from working in their lives, their inner equilibrium is upset by stress, anxiety, and depression. This probably explains why most saints experienced profound periods of depression when they finally looked beneath their pious actions to face the reality of their own ingrained sin and subsequent need for inner purification.
Tragically, few Catholics discover the root of their spiritual malaise because often it means seeking psychological help. We all have psychological impairments, generational cycles, selfish habits, pride, controlling and other errant behaviors. God offers His children the means to become free from sin, bad habits and mental illness through the Church, prayer, confession but also through therapy.
Mental Illness Is Not a Sign of a Weak Character
Most make an appointment every year with their G.P. to check out their physical health and reluctantly arrange for a dental checkup but why don't people also undergo a routine mental-health checkup? Some people might laugh off the implication there is anything wrong with how their brains function. Others might nervously skim the rest of this article, fearing they have problems. However, this question is far from ridiculous. Have you taken a good look around lately? What do you see and hear?
Modern society is stressful; people are anxious about the economy and job security. They have problems sleeping; many self-medicate with alcohol, drugs, and cigarettes to help 'take the edge off.' More and more sick days are the result of depression and other mental health issues. Incredibly, it never enters most people's minds to seek professional help until they are in a crisis because there still is a stigma attached to mental illness.
Even 'Normal' Catholics Need Therapy
It is especially important for Catholics to understand the causes of mental illness, instead of judging those who suffer as lazy or at fault for some reason or other. It is even worse when believers deny their own need for help. When people cannot understand these unseen illnesses, they simply fall back on age-old admonishments,
Well, we all have our cross to bear.

Pull yourself up by your bootstraps.

You'd feel better if you went to Mass more often.

What do you have to be depressed about?

Have you been praying/ going to confession?

Volunteer and you won't have time to brood.
No one actually believes people are to blame if they need eyeglasses to read or insulin to fight diabetes, but they still heap abuse on people with depression or anxiety as if these diseases were signs of a weak character or a lack of faith. Triggers for mental illness can be as simple as increased stress or a lack of sleep to a more serious reaction to a traumatic event such as war or abuse, anything which throws off the chemical balance in the brain. Some people just need medication to balance their serotonin levels to heal mental illness just like some people need insulin. And almost everybody could benefit from therapy.
[tweet "Becoming whole and holy is a messy process. Don't tackle it alone. By @mjmjuneau"]
Becoming whole and holy is a messy process, one which no one can tackle alone. Let's take advantage of all the help we can get, everyone from confessors to counsellors, even if that means seeking out help from a mental health professional.
Does this topic seem completely irrelevant to you? I will leave you with a thought.
One in four people suffers from mental illness sometime in their life.

Think of three friends.

If they all seem fine,

looks like you're the one.
Copyright 2017 Melanie Jean Juneau
Since mental illness is as common and invisible among the faithful as it is in secular circles, concern for mental health cannot simply be relegated to the secular sphere, especially during Mental Health Awareness month in May. I admit the topic of how and why Catholics experience mental illness might seem completely irrelevant to most Catholics. After all, many of us are too busy with daily life to actually step back and evaluate the state of our mental health objectively. Meanwhile, our fellow parishioners are just as concerned as we are that they appear healthy, happy, and whole in public.
About the Author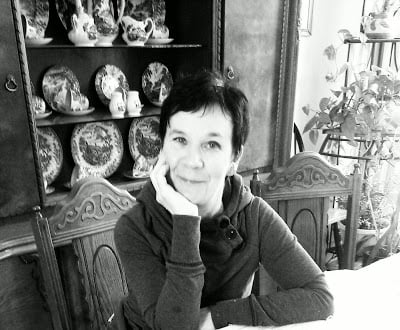 Melanie Jean Juneau is a mother of nine children who blogs at joy of nine9. Her writing is humorous and heart-warming; thoughtful and thought-provoking. Part of her call and her witness is to write the truth about children, family, marriage and the sacredness of life. Melanie is the administrator of ACWB, the Editor in Chief at CatholicLane, CatholicStand, Catholic365 , CAPC & author of Echoes of the Divine.