The dinner table is a place of community, no matter the family size or setting. One time, Mother Teresa found a little girl on the streets of Calcutta. The saint of the gutters took her into the safety of the convent. After a few days the girl went missing. The sisters discovered her under a tree—her family's wall-less home. The child left the convent's security, returning to the comforting community of her family— eating meagerly— but all together in love under the branches of a tree.
Eating together can be therapeutic and healing. Many countries treat mealtimes as sacred, lingering over meals and sharing meaningful conversations with loved ones. Yet, sadly the average American family consumes far too much fast food, and doesn't eat together regularly.
Eating is necessary for survival, but enjoying a meal together is transformative. We should avoid hurried eating or while working at computers or on our electronic devices. We'd be wise to re-learn the art of lingering family dinners and heart-to heart conversations. Granted, we are not living in the time of "Leave it to Beaver" or "Father Knows Best," and perhaps fear we lack the luxury of time required to cook a decent meal. Yet, "breaking bread" together and sharing hearts doesn't have to be complicated to provide tremendous benefits!
Regular family dinners make a huge difference in everybody's lives. Let's look at some physical and psychological implications of families eating together. First, home-cooked meals are usually healthier than fast food. Additionally, eating together provides an opportunity to be with loved ones, de-stress, catch up on each person's news, enjoy meaningful conversation, improve family relationships, and a chance to pray and learn more about the Faith together, too.
Studies show that children who eat with their families five times a week or more are far less prone to abuse alcohol or drugs, or become smokers. Academically, they achieve higher and report feeling closer to their parents than children who eat less often with their parents.
[tweet "5 tips for togetherness at family dinner by @DonnaMarieCOB"]
Five Tips for Making Dinner Happen and Happy
1)Plan ahead: don't try to throw dinner together at the last minute.
2)Keep it simple: but, make it healthy.
3)Get kids involved: helping set the table, cooking, and clean up.
4)Be flexible: don't expect perfect behavior. Preserve harmony and peace at the dinner table.
5)Make it special: light a candle, add fresh flowers to the table, invite Our Lord as your guest! Pray together as a family!
Meaningful memories are created each time you gather together to eat. Show family your love by planning dinner together.
Chicken Pot Pie: Easy, Healthy Comfort Food
1 pie crust (home made or store bought) – can be gluten free
1 lb. chicken cutlets, cut into pieces 1 medium onion, chopped
1 can Amy's organic porcini mushroom soup (or other)
1 box Lunberg organic porcini mushroom risotto (or other)
1 cup fresh baby carrots, sliced thin 2 cups frozen petite peas
1/2 large sweet potato, chopped
1/4 cup shredded cheddar (or favorite cheese)
3 cloves garlic, minced
3 to 4 tablespoons olive oil
teaspoon cumin (optional)
dash of turmeric (optional)
salt and pepper to taste

Cook risotto according to directions. While it's cooking, cook chicken in large cast-iron pan in olive oil. Add carrots and sweet potato. When almost cooked, add frozen peas, garlic, and onion. Stir frequently, add seasonings. Fold in cooked risotto and mushroom soup. Add all to pie crust and bake in 350-degree preheated oven for 35 minutes. Add cheese on top during last 5 minutes. Enjoy!
Copyright 2017 Donna-Marie Cooper O'Boyle
Reprinted here with the kind permission of Legatus.org, where it was originally published.
About the Author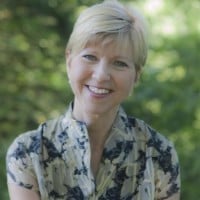 Donna-Marie Cooper O'Boyle is a Catholic wife, mother, grandmother, international speaker, pilgrimage leader, award-winning journalist, and author of over 30 books. She knew Mother Teresa, participated in a Vatican congress, and St. John Paul II blessed her work on Mother Teresa. She writes for L'Osservatore Romano, National Catholic Register, Magnificat magazine, Our Sunday Visitor Newsweekly, Catholic World Report, and more. Visit DonnaCooperOBoyle.com.