Egocentricity
Most of us are stuck in egocentricity: we see the world as if it is revolving around us because we live as if we are the centre of our tiny universe. Since few of us stand with our fellow believers praising Christ, the only true centre of the entire universe, few of us are living in reality. We are blinded by pride which prevents us from receiving Divine love.
So what was this Augustinian's solution to the problem of my egocentricity, to my spiritual dilemma?
Rather than allowing me to wallow in negativity bemoaning my weaknesses, he instead gave me an ejaculatory prayer, in the tradition of St. Augustine, who loved the short prayers of the early Christians. It was a prayer which simply raised my spirit to God.
"Jesus, I love you; possess me."
This is a prayer which brought a smile to my face while giving God permission to have His way with me at the same time. It was a brilliant way to bring me into reality, to see again what is most important in life. It opened my heart to God's love for me.
[tweet "A prayer that opened my heart to God's love for me - by @mjmjuneau"]
Love Is The Most Important Thing in Life
The Catechism of the Catholic Church reminds us that the most important thing about life in Christ:
2083 Jesus summed up man's duties toward God in this saying: "You shall love the Lord your God with all your heart, and with all your soul, and with all your mind." This immediately echoes the solemn call: "Hear, O Israel: the Lord our God is one Lord."
God has loved us first. The love of the One God is recalled in the first of the "ten words." The commandments then make explicit the response of love that man is called to give to his God.
The saints not only knew the most important thing in this life, they actually lived it out:
All that we do is a means to an end, but love is an end in itself because God is love. (St. Maria Teresa of the Cross [Edith Stein])

You know well enough that Our Lord does not look so much at the greatness of our actions, nor even at their difficulty, but at the love with which we do them. (Saint Therese of Lisieux)
Copyright 2017 Melanie Jean Juneau
I recently confessed to an Augustinian priest that my biggest sin was still egocentricity. I added that my biggest fear was that I would die, only to discover that I had missed out on what is most important to life on earth by wearing masks, playing society's games, accepting current attitudes and popular beliefs. Basically, what I meant was I understood that playing a role in a man-written play is not the same as living authentically in God's reality. Even though I saw my ridiculous stance, I felt stuck.
About the Author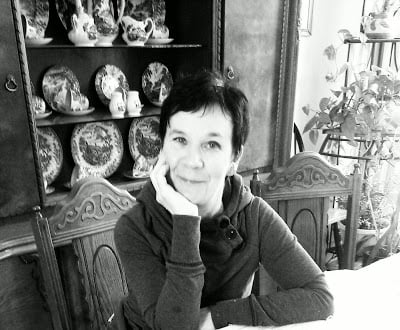 Melanie Jean Juneau is a mother of nine children who blogs at joy of nine9. Her writing is humorous and heart-warming; thoughtful and thought-provoking. Part of her call and her witness is to write the truth about children, family, marriage and the sacredness of life. Melanie is the administrator of ACWB, the Editor in Chief at CatholicLane, CatholicStand, Catholic365 , CAPC & author of Echoes of the Divine.