Some days, I'm just done.
I can't argue anymore. I can't fold one more towel. I can't listen or negotiate or serve or even exist. I need a sensory deprivation tank, a glass of wine, and a long, hard, cry by myself.
Motherhood is a beautiful vocation, a calling marked by immeasurable joy. But if we're honest with ourselves, it's also marked by challenge - immense, overwhelming, and frequently crude.
It's no unusual to feel abandoned. We question His presence, His will for our lives. We find ourselves staring at the warm waning evening, wondering just what it is we are doing with our lives, or what He might want.
You are not alone if you've been in this place. Your Facebook friend who has it all together surely grapples with it, too. Mother Teresa, Mother Angelica, Teresa of Avila, John of the Cross: even holy servants and saints have known a desperate dark night of the soul.
The truth is, my friend. It's normal. It's human, and it's real. It is a moment we must push through in prayer, even when we just can't believe it.
Five Simple Prayers For When You Just Can't
When You Can't Believe
Lord, I believe. Help my unbelief. (Mark 9: 23-25)
When You Can't Take Anymore
O Christ Jesus,
when all is darkness
and we feel our weakness and helplessness,
give us the sense of Your presence,
Your love, and Your strength.
Help us to have perfect trust
in Your protecting love
and strengthening power,
so that nothing may frighten or worry us,
for, living close to You,
we shall see Your hand,
Your purpose, Your will through all things.
Saint Ignatius of Loyola
When You Can't Find Your Way
O Lord my God,
Teach my heart this day where and how to see you,
Where and how to find you.
You have made me and remade me,
And you have bestowed on me
All the good things I possess,
And still I do not know you.
I have not yet done that
For which I was made.
Teach me to seek you,
For I cannot seek you
Unless you teach me,
Or find you
Unless you show yourself to me.
Let me seek you in my desire,
Let me desire you in my seeking.
Let me find you by loving you,
Let me love you when I find you.
When You Have Nothing to Give

Dearest Lord, teach me to be generous;
Teach me to serve thee as thou deservest;
To give and not to count the cost,
To fight and not to seek for rest,
To labour and not to seek reward,
Save that of knowing that I do thy will.
When You Can't Love
Holy Mother Mary,
Who by virtue of your divine motherhood,
Hast become mother of us all
I place the charge which God has given me,
under your loving protection.
Be a Protecting Mother to my children.
Guard their bodies and keep them
in health and strength.
Guard their minds and keep their thoughts ever holy
in the sight of their Creator and God.
Guard their hearts and keep them pure and strong
and happy in the love of God.
Guard always their souls and ever preserve in them,
faithfully, the glorious image of God
whom they received in Holy Baptism.
Always Mother, protect them and keep them
under your Mothering care.
Supply in your all-wise motherhood,
for my poor human deficiencies
and protect them from all evil.
Amen.
Some days, you're just done. You can't argue anymore. You can't fold one more towel. You can't listen or negotiate or serve or exist. But there is one thing you can do - you can pray:
A soul arms itself by prayer for all kinds of combat. In whatever state the soul may be, it ought to pray. A soul which is pure and beautiful must pray, or else it will lose its beauty; a soul which is striving after this purity must pray, or else it will never attain it; a soul which is newly converted must pray, or else it will fall again; a sinful soul, plunged in sins, must pray so that it might rise again. There is no soul which is not bound to pray, for every single grace comes to the soul through prayer.

--St. Faustina
Every single grace comes to the soul through prayer.
[tweet "Just pray. Especially when you can't. -@ginnykochis"]
Just pray.
Especially when you can't.
Copyright 2017 Ginny Kochis
About the Author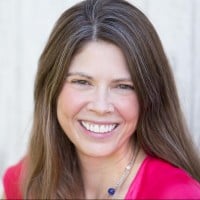 Ginny Kochis is a Catholic wife and homeschooling mom to three differently-wired children. She founded the Not So Formulaic community to support Catholic moms raising out-of-the-box kids. Ginny believes God gives curious, creative, intense children the exact mother they need to thrive.