I attended a wedding reception several years ago where the bride sung a lovely song that she had written to her then newlywed husband. The words of the chorus have always stayed with me: "Lifetime is not enough time to show you how much I love you." Those sweet words from a bride to her groom at the beginning of their life together indicate the wisdom of a deep reality grasped – knowing and believing that loving your spouse is an ongoing decision and effort throughout the course of your married life together. It is a daily "yes" to live love, whether you feel it or not.
I remember my wise mother telling me many years ago: "Kathleen, if I relied on feelings, I might have lost my faith a long time ago. I choose to love God, even when I don't feel it." It is the same in marriage! We must choose to love even when we don't feel like loving. This is a lofty calling, though. So how do we do this? How do we love our beloved at all times in all circumstances? It is called Sacramental Grace. By tapping into the grace of the sacrament that unites you and your spouse, you can love at all times and in all circumstances with God's love.
I once heard a priest share during a wedding homily that the husband and wife celebrating their Sacrament fell in love with God before they fell in love with each other. What a priceless gift that couple gave each other on their wedding day – the gift of being able to love one other from the start with God's love! If you desire to truly love your spouse and experience marital love the way that God designed, make sure first, if you have not already done so, to fall deeply in love with God. It is only then that authentic love for your spouse can naturally flow from your heart, because God is dwelling there and His love will pour out from your heart, where He dwells, into your beloved.
In my own marriage, my husband and I have developed a rhythm of love, but when one of us starts to slip through sin away from the source of our love, God, we fall out of rhythm. Through fervent prayer, gentle encouragement, the Sacrament of Confession, and forgiveness, combined with the virtue of patience -- we are able to love one another back to the source of authentic love and once again experience the beauty of a marriage in rhythm with God's plan.
Often in marriage we have a tendency to focus on the symptoms:
◾We need to communicate better
◾We need to have more romance in our marriage
◾We need to be on the same page with parenting
◾We need to have a financial plan and stick to it
The list can go on and on. . . .
But what if instead of focusing on the symptoms, we focus on the source of our sinfulness: a lack of unity with God. If we focus first on living a God-centered life, then the symptoms might naturally dissolve and at the very least, they will be approached with God's love and forgiveness, which makes all things whole. Wholeness is the beginning of holiness. I am not trying to oversimplify, but the reality is- when your heart is truly united with God's heart, you are motived to do what is right. You seek to be the best version of yourself, you want to love your spouse fully, and you are willing to do what it takes to love them because God's love is driving you.
[tweet "What drives you in #marriage: love of God or love of self? By @kathleenBillin"]
What drives you in your marriage? Is it a love of God or a love of self? When your spouse causes you emotional pain, do you respond by shutting down or pushing into the pain and allowing it to mold your marriage?
God's design for marriage is for husband and wife to grow in holiness together with Heaven as the ultimate destination! To grow in holiness requires sacrifice. In fact, the word Sacrifice literally means, 'to make holy.' Each time we sacrifice for our spouse, we blossom more in holiness. Holiness is the fruit of true sacrifice stemming from a deep love for God.
Do you desire to love your spouse wholly in order to be holy? Do you want to give your spouse the gift of authentic lasting love? Then - love God first.
Copyright 2017 Kathleen Billings
About the Author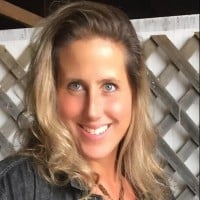 Kathleen Billings blogs at seasonsoftheheartandhome.com. She writes about living her faith in every season, as a wife and a mother of five, amidst the ordinary moments each day that God wants to make extraordinary. She has a BA in Theology, is a regular blogger on marriage for the USCCB Website, a contributing author to the book "Amazing Grace for Mothers," and an active Catholic speaker.