I am certain that there are many of you out there who will relate to what I am about to say: sometimes, without any apparent instigating reason, I wake up in the morning, and I just feel down. Small things make me more anxious than usual, and I cannot shake the rain cloud that seems to float over my head that day. I have always been prone to good-natured anxiety, even as a child, but since having children I have noticed bouts of the blues taking root from time to time. I think that it is because at this stage of life, many more responsibilities have come into play, and with those responsibilities comes fear and worry. These emotions feed right into depression if one is prone to that.
[tweet "Dymphna: a #saint to turn to when you're down #anxiety #depression #PPD -@CatholicTiffany"]
As an anxious new mother, I discovered St. Dymphna, the patron saint of those suffering from mental illness. I have carried St. Dymphna with me in my heart since then, always turning to ask for her intercession when I am feeling down or anxious. St. Dymphna was a child saint, being just fifteen years old at the time of her death. She lost her mother as a young girl, and as a teenager lived with her mentally ill father. Her own father ultimately took her life. Her story is certainly a sad one, but her abiding Catholic faith, inherited from her mother, is an inspiration to us all so many centuries later. In the midst of her difficult life, St. Dymphna prayed for her father, and forgave him for his violent actions towards her. She understood the significant impact mental illness can have on a person.
Whenever I have a day in which I cannot shake that feeling of the blues, I pray and ask for the intercession of St. Dymphna. I pray for peace of mind, for relief from my feelings of anxiety and depression, and for her faith and joyful hope to be embedded into my heart. This tactic has never failed to bring me solace.
St. Dymphna also has a chaplet that we can use to aid us in our prayer. I procured one several years ago, and have prayed with it faithfully ever since. The traditional colors of a St. Dymphna chaplet are red (symbolizing martyrdom), white (symbolizing chastity), and green (representing hope). To pray with this chaplet:
On the St. Dymphna medal, ask for her intercession with your prayer intention.
There are two beads on which to pray an Our Father and a Hail Mary for the intentions of our Holy Father.
Then, on the remaining fifteen beads, pray the Glory Be in honor of each year of St. Dymphna's life.
St. Dymphna's feast day on the Church calendar is officially May 15th, and indeed, I think of her often throughout the spring and summer. For many, the winter months are a time when the blues seem to strike with a vengeance, given the decreased amount of sunlight, and shorter, darker days. Her intercession is valuable year round.
Do you have a devotion to St. Dymphna? Have you ever prayed her chaplet? I would love to hear from you in the comments!
Copyright 2017 Tiffany Walsh
About the Author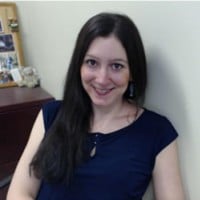 Tiffany Walsh is a wife and mother, a native western New Yorker, and a college librarian. She is a cradle Catholic who rekindled her childhood faith as a graduate student via her love of books, and is the author of Exploring the Catholic Classics, part of the Stay Connected Journals for Catholic Women series. She enjoys writing about faith, crafting, dance, fitness and wellness. Visit her blog at Life of a Catholic Librarian.