Recently I attended an awards banquet through our Diocese of Columbus Catholic Foundation to receive a grant for the Catholic Women's Conference I co-chair. The grant was to provide financial help to women who cannot afford tickets to our Conference. They would receive a scholarship toward admission price. It was a very touching gift that I knew would bless many women. As I looked around the room that evening, I was in awe to see it filled with the leaders from our Catholic community who were also receiving grants to help their organizations with the amazing work they do in service to the Church. It was a powerful witness of the work of so many, as each organization strove to be the hands and feet of Christ on Earth. As each person came to the podium to receive their grant, they shared a little bit about their organization. I was in awe of the wide array of work of the Catholic Church in our diocese. The programs ranged from assisting in crisis pregnancies, helping women who choose life to receive education and employment after having their baby, feeding the poor, helping evangelize college students, providing support for families with cancer patients, and working with underprivileged youth and children. Their stories and their missions were all ones of hope and healing for our wounded world.
All the work being done was such a witness to me, however, one story that struck me like no other. The emcee announced Sr. Nadine Buchanan, OP, who was receiving a grant for her street outreach to help victims of human trafficking. An older woman, barely tall enough to be seen over the podium, got up and began to share about the many women she ministers to -- women that she loves so very much, but who feel utterly unloved.
Sr. Nadine's work began with helping the victims in Columbus, Ohio who were part of a program called "C.A.T.C.H." or Changing Actions To Change Habits, a therapeutic jurisprudence program for re-offending prostitutes. She would meet them at the jail when they were released and drive them to the rehab center, always giving them a support package of clean clothes, food and some personal hygiene items. Sr. Nadine is also present during their weekly sessions of C.A.T.C.H., which has a very high success rate of keeping these women from returning to the streets by offering them dignified jobs.
However, Sr. Nadine desired to do more for these women. Her work has grown beyond the C.A.T.C.H. program and a few years ago she literally "took it to the streets." She now loads up her car several times a week with food, warm clothes and personal items and drives to the West Side of our city, where girls as young as 13 and as old as 45 are sold and exploited. Sr. Nadine calls out to them from her car and offers them something to eat, and then begins a conversation with them. Many of them come from lives of dysfunction, suffering from drug addiction and abuse. She rarely sees the same face twice, but knows how important it is to show these women that someone cares for them.
"These girls have nothing," Sr. Nadine shared, "no food, no home, no fresh clothes – not one person that they can trust. I just want to sow hope and trust – to be a friendly face that they can count on, and the person that they can always believe."
[tweet "A beacon of hope to women feeling unloved. By @mercyformoms"]
Fueled by prayer, Sr. Nadine continues day in and day out to be a beacon of hope to these women who feel unloved and who don't know they have other options. She embodies the message of G. K. Chesterton, "To love means loving the unlovable." She was the face of Christ to them.
As I was preparing to leave that night, I had the opportunity to talk with Sr. Nadine. Thoughts raced through my head about her work. Wasn't she was afraid to do this type of work? Was it overwhelming to see at the magnitude of the evil these women were facing? How could she stand to hear so many sad stories? Yet without me asking, she shared how it wasn't easy, but these were her "sisters in Christ" and deserved to know her love and about God's great love for them. As I hugged her goodbye, I thanked her for her beautiful work and moving message. She was so genuine, so passionate, so warm and such a gift to these women. In that moment I knew, I had been "touched by an angel."
Learn more about Sr. Nadine's work.
Copyright 2017 Michele Faehnle
About the Author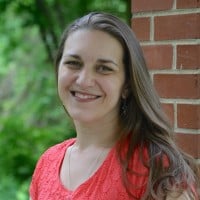 Michele Faehnle is a wife, mother of 4 and a school nurse. In her free time she enjoys volunteering for the church and is the co-chair of the Columbus Catholic Women's Conference. She is also the co-author of The Friendship Project, Divine Mercy For Moms, Our Friend Faustina and Pray Fully; Simple Steps to Becoming a Woman of Prayer. Read more of her work at InspireTheFaith.com.