Mary Cassatt [Public domain], via Wikimedia Commons[/caption]As I was grappling with what it means to be a woman, free from passing cultural attitudes but instead from an eternal perspective, I uncovered insights from three saints: Saint Gianna, Saint Edith Stein, and Saint John Paul II. Their words were like a light shining into the confusion of my heart and mind. Saint Gianna was not only a practicing medical doctor but also a mother of six children. Her startling insight into the nature of women was that no matter what vocation a woman chooses, even celibacy, she always ends up expressing an innate motherhood because
"Each vocation is a vocation, to maternity: physical, spiritual, moral maternity, because God has placed in us the instinct of life."
Women and Maternity
Edith Stein explains Gianna's stance: women are basically mothers at heart. St. Teresa Benedicta of the Cross (born Edith Stein), a German Jewish philosopher who converted to Catholicism, became a Discalced Carmelite nun, and died in the gas chambers of Auschwitz, fought with the modern idea of the nature of women. Instead of denying her gender, she looked to her body as the image of her soul. Katharina Westerhorstmann discusses Stein's view of women in On the Nature and Vocation of Women: Edith Stein's Concept against the Background of a Radically Deconstructive Position. Although Stein understood every woman was an individual, she believed women's bodies and souls share a basic nature designed to give and receive of love, the "forming principle of the female soul." According to Stein, the entire being of a woman seeks to be filled with love. This tendency can only become stable when she is connected to the "eternal sources." Be it in the home, office or on a mission field, women have a gift of knowing when another person needs to be loved. "It is her gift and her happiness to share the life of another human being, namely by taking part in everything that concerns him: in big and small matters, in joy and suffering, and also in tasks and problems." Women can be fulfilled in a myriad of vocations as long as they are free to develop this gift of being there for others by serving and loving. Saint John Paul II agrees with Edith Stein in his letter, On the Dignity and Vocation of Women, published in 1988. He teaches there are natural differences between the sexes which are not just cultural or sexual but in perceiving, judging, choosing, and even in the way men and women love. True equality does not mean men and women must pretend to be the same to keep one sex from being inferior to the other. He teaches us about women's dignity and celebrates a woman's unique traits. Women and men complement each other. In his conclusion, St John Paul II offers encouragement to women to discover their vocation as women. Jesus had a "great esteem for the dignity of women and for the vocation which enables them to share in his messianic mission. ... In the Spirit of Christ, in fact, women can discover the entire meaning of their femininity and thus be disposed to making a "sincere gift of self" to others, thereby finding themselves." The Church recognizes the "mystery of woman, ... for that which constitutes the eternal measure of her feminine dignity, for the "great works of God." I am encouraged and lifted up by these words, proud to be a woman, proud to be distinct and different from a man.
---
Copyright 2018 Melanie Jean Juneau
About the Author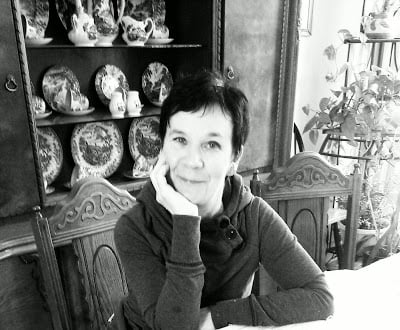 Melanie Jean Juneau is a mother of nine children who blogs at joy of nine9. Her writing is humorous and heart-warming; thoughtful and thought-provoking. Part of her call and her witness is to write the truth about children, family, marriage and the sacredness of life. Melanie is the administrator of ACWB, the Editor in Chief at CatholicLane, CatholicStand, Catholic365 , CAPC & author of Echoes of the Divine.