Copyright 2018 Brian K. Kravec. All rights reserved.[/caption] "Post Christianity is the loss of the primacy of the Christian worldview … where Christianity had previously flourished, in favor of alternative worldviews such as secularism or nationalism. It includes personal worldviews, ideologies, religious movements or societies that are no longer rooted in the language and assumptions of Christianity." – Wikipedia In 2017, Barna Research developed a metric to identify The Most Post-Christian Cities in America. Astonishingly, several of the major cities of Central and Northern California in which I work to evangelize are ranked among the top 33 of 100.
A Dilemma
Additionally, Sherry Weddell cites a troubling statistic in her book, Forming Intentional Disciples, in that 79 percent of those who have dropped the name "Catholic" and claim no religious affiliation of any kind have done so by age 23 (p. 33). Can this be indicative of the probability that young adults, ages 18-39, are the most under served demographic in the Church? Is it possible that this statistic is also indicative - given the priority and demands of education, career, social schedules and relationships - of how challenging it is to evangelize young adults?
A Bold Response – Relentless 2018
Relentless 2018 Central California Young Adult Conference is a bold and calculated response to the challenges of this Post-Christian era. It's presented Saturday, Feb 10, at Our Lady of the Assumption Catholic Church in Turlock, California.
"This RELENTLESS conference is not one you want to miss. It is going to transform your perspective for the rest of the year and, hopefully, for the rest of your life." - Joel Stepanek; Author, Speaker and Evangelist.
Relentless 2018 is an unprecedented conference featuring internationally renowned Catholic Evangelists Joel Stepanek (Life Teen, Steubenville, WYD Poland), leading exorcist, Fr. Gary Thomas (The Rite) and Patricia Sandoval (Transfigured) with John Sablan, Andrea Vasquez Tejada and Brian Keith Kravec (Possibility Productions). https://www.youtube.com/watch?time_continue=65&v=o_Yq1mbYgJU God is relentless in His pursuit of our hearts desiring our eternal salvation. Satan has been defeated by the Cross of Christ though he remains relentless in his seductive attacks aimed at our eternal damnation. War is being waged for our souls and being impartial is a perilous mindset on the battlefield. It's time to choose your side.
"Start the year with your armor on and get ready for battle! God wants it! All it takes is skipping a few latte's. Calling all Young Adults!" - Andrea Vasquez Tejada
Young Adults and You Too
All men and women, single or married, young or not so young, are invited to attend RELENTLESS 2018. Due to mature content of RELENTLESS, prudential judgement and parental accompaniment is required for participants under the age of 18. Visit Relentless2018.com TODAY for details and registration.
Copyright 2018 Brian K. Kravec. All rights reserved.[/caption]
---
Copyright 2018 Brian K. Kravec
About the Author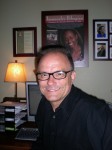 Brian is a cradle Catholic, husband and father. He's the Co-Founder and Executive Director of Possibility Productions, a 501(c)(3) faith event evangelization apostolate in service of the Body of Christ. Brian has proudly served the Roman Catholic Diocese of Fresno on the Board of Directors for KNXT Catholic Television, is the Steward of St. Patrick's Faith Event Ministry for his local parish and a 4th degree member of the Knights of Columbus. Brian and his wife are consecrated members of the Militia Immaculata. For information on the MI and Total Consecration visit Consecration.com.