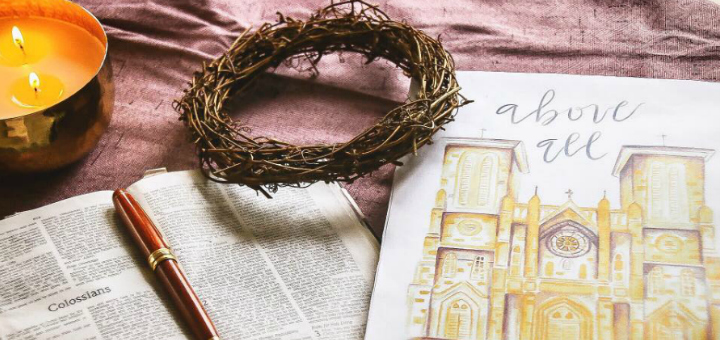 Copyright 2018 Rakhi McCormick. All rights reserved Used with permission.[/caption]
"How?

How will the tired soul living in the woman in the middle of winter gray be energized by the beginning of a season of penance? How will she find hope and new energy in the hard work of repenting?

SHE WILL PRAY – MORE."
And so begins this beautiful Lenten Scripture study written by Elizabeth Foss and her team of writers for Take Up & Read. Focusing on Colossians 3:12-17, this Lenten study expands upon the journal written by Elizabeth for Blessed Is She last Lent, Put on Love. It provides a three-faceted approach to help us grow in our love for, knowledge of, and faithfulness to Christ. Utilizing the ancient practice of Lectio Divina, the team of writers help us explore the depth and richness of the verses in this excerpt from St. Paul's letter to the Colossians. With some historical explanation of the verse being studied, daily reflections from gifted women of faith, and a call to prayer and action, Above All is a gift to anyone seeking to grow deeper with Jesus this Lent.
Copyright 2018 Allison McGinley. Used with permission. All rights reserved.[/caption] In the spirit of full disclosure, I was honored to provide the calligraphy and lettering featured as focus pages for the reader. It lends to the idea that the Word is a thing of beauty, and the artwork and design by Christie Peters and Kristin Foss elevate that beauty to an even higher level. While it is pretty, the method and message of Above All is one that can be shared with the men in our lives, too. We are all called to clothe ourselves in love above all. The last distinctive feature of this work by Take Up & Read is that all profits from the sale of this study will go to benefit Adore Ministries in Houston as they continue to assist with recovery post-Hurricane Harvey. The team behind this study has poured their heart and soul and prayer into making this a journal that will live in you, and whose legacy will live on in a work of mercy. It is now available for sale on Amazon, and can be used in a group setting as well. So prepare to find a cozy place, light a candle, grab some coffee, and grow in love this Lent. Have you made a plan for Lent yet? If not, consider making Above All a part of your plan this year!
Copyright 2018 Take Up And Read. Used with permission. All rights reserved.[/caption]
---
Copyright 2018 Rakhi McCormick
About the Author

Rakhi is a Catholic wife and mother who works in parish communications part-time while trying to keep up with her husband, three young children, and a growing creative business. She is a convert from Hinduism and spent many years working in young adult and campus ministry. Rakhi's blog and artwork can be found at The Pitter Patter Diaries, where her mission is to share the love of Christ with the world.