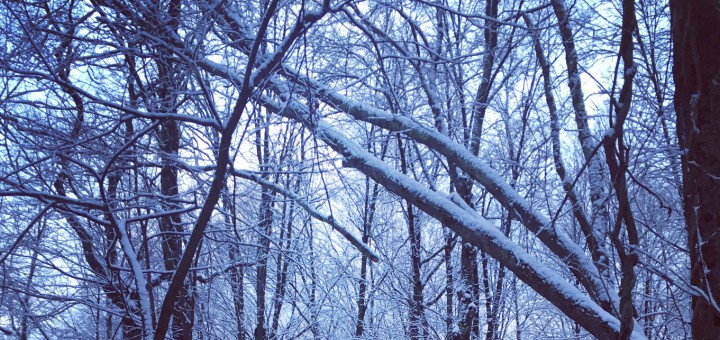 Copyright 2018 Laura Mary Phelps. All rights reserved.[/caption] I still have boxes filled with Christmas ornaments and stockings in the hallway. The tree stand, in fact, is resting on the staircase, along with a giant black Hefty bag filled with garland. Lent, my sweet friends, is just around the corner. The season of self-sacrifice, forgiveness, and discovering our nothingness is not too far away. Time to put those decorations away, wouldn't you agree? And I prefer the Lenten season over any other. I am eager to strip myself, my home, my everything of anything: of all things that cover or embellish, that distract the eye from what is truly beneath. I want to be empty. Because if I come to Jesus filled up and decorated, what room is there for Him? If I approach the crucified King with arms full of things that sparkle and shine, how can I hold out empty hands eager to offer all He has already given? All that I do not even possess? After celebrating His birth with the excess of what does not even matter still resting in boxes on my staircase, oh how I long to pack it all away so that I can finally rest what is left of me in his grace-filled arms. It is time to store those bright and bold earthly things up in the attic and unpack those simple treasures that hold eternal value. Let us make no excuses to miss out on this Lenten season. We have no gift buying, no holiday parties, no baking or shopping or gingerbread house decorating to distract us from following Him. Let us start now, before Ash Wednesday is upon us, thinking about this life of ours that is nothing but dust, over like a sigh. Let us not forget that these days of ours are all too short, how they pass swiftly and are gone. (psalm 90) And let's make a plan. What will be your holy fasting? How will you choose to give alms? When will you carve out that time to pray? To make a good plan requires quiet time before the Lord. We think we know what we ought to give up to press in closer to Him, but often, we get it wrong. So I am thinking about prayerfully kneeling before the Blessed Sacrament, and asking my Healer and Father, "What is it I am holding tight to, Lord, that keeps me from holding tight to You? What continues to cloud my heart and feed my sin-sick soul? What weapons do you offer me as I battle the spiritual evils that so badly want to destroy me? That desire to keep me apart from You? That prowl around me like a roaring lion, waiting to devour every bit of me at the first sign of fear? Arm me Lord, I pray, with the weapons of self restraint, wash me of my guilt, cleanse me of my sin." The goal of Lent is not to lose. Reconnecting ourselves to our nothingness does not mean as persons we do not matter. There is beauty, you know, in letting go, dropping it all, and being exposed. Just look at the woods and the tall trees in winter. Their leaves have died, their branches are left frail and frozen, their nests are empty and lifeless. And this winter death that surrounds us? Have you ever seen anything more lovely than this? I love Lent because I do not see the loss, but I do see the gain. It is a gift you know, that we have been blessed with at this time. A time of recognition. A time of healing. A time when we acknowledge our desperate need to be saved. You see? All gain. This is the time when we can come to Jesus just as we are, broken and weary, with our painful wounds exposed, and our hearts of stone in pieces, so that on that glorious Easter Sunday we will have become worthy to celebrate. We will have repented and changed our ways. The loss of self is necessary if we desire to gain Christ. Let us pack away, sweet friends, the excess and glitter and get down to bare bones so that we are prepared to return to our Savior with a whole heart. Let us stand tall like the trees with empty stretched out branches, awaiting the Resurrection, anticipating salvation, ready to hold and embrace the unspeakable joy that is just around the bend.
Copyright 2018 Laura Mary Phelps. All rights reserved.[/caption]
---
Copyright 2018 Laura Mary Phelps
About the Author

Laura Phelps is a wife and mom to four, who enjoys writing, blogging and speaking about her faith. She serves as a Regional Area Coordinator for Walking With Purpose, a women's Catholic Bible Study, and blogs at www.lauramaryphelps.com.