By Joseolgon -

Own work

, CC BY-SA 3.0, Link[/caption] Every time I pray the joyful mysteries of the Rosary, I smile when I get to the second mystery, The Visitation. I slip in an extra prayer of thanksgiving for the women in my life who are special to me in ways I see in Mary and Elizabeth. Women who, like Mary, have set aside their own needs to serve me joyfully those times I've needed help or support. Women like Elizabeth, who joyfully receive such companionship and support from me. St. Bernard of Clairvaux describes the essence of this joy of presence, "We find rest in those we love, and we provide a resting place for those who love us." As women, we often specialize in this giving of ourselves, and to be honest, sometimes need a little nudge to allow ourselves the vulnerability to accept this love and kindness from others. Mary and Elizabeth show us how to be sisters in Christ! It is Christ, after all, who is at the center of this story. The mature Elizabeth experiences a late in life pregnancy, no doubt with challenges that include fatigue. Mary goes to her, perhaps to share her news, perhaps to help her cousin. Their greeting is beautiful! We relive it every time we pray the Hail Mary:
"Elizabeth was filled with the Holy Spirit and exclaimed with a loud cry, 'Blessed are you among women, and blessed is the fruit of your womb.' " (Luke 1:41-42)
This is the scene that plays in my heart when I pray this mystery and reflect on how Mary "took" Jesus to Elizabeth. While I have treasured many friendships in my life, I have been blessed by spiritual friendships formed by a common bond: Jesus Christ. When I gather with these friends, I guarantee there will be laughter. There will be sharing. There will probably be good food and good drink. But I can say with absolute certainty there will be Jesus. We pray for each other and our families, and encourage each other's personal pursuits. More than that, we encourage and support our faith journeys through our presence to each other, as Mary and Elizabeth demonstrate. Reach out to a friend today. Send her your love in a note or text. Stop by for a cup of coffee. Invite her out for a friendly diversion. The gift of presence is a blessing in our busy lives.
---
Copyright 2018 Maria Morera Johnson
About the Author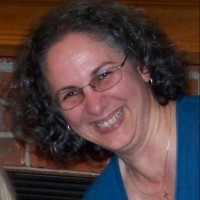 Maria Morera Johnson, author of My Badass Book of Saints, Super Girls and Halo, and Our Lady of Charity: How a Cuban Devotion to Mary Helped Me Grow in Faith and Love writes about all the things that she loves. A cradle Catholic, she struggles with living in the world but not being of it, and blogs about those successes and failures, too.