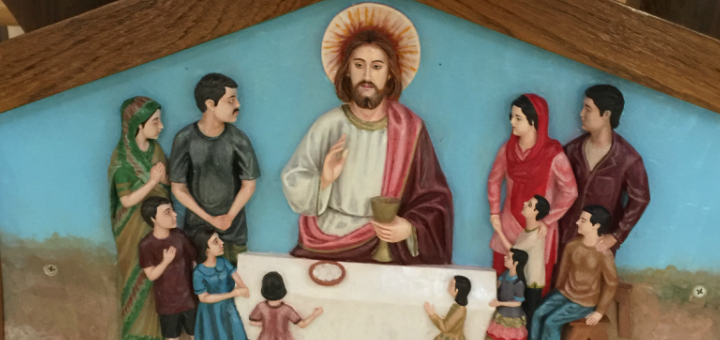 Copyright 2016 Holy Cross Family Ministries. All rights reserved.[/caption] For the past two years, during Lent, I write a daily poem to reflect. They are my expression of a beautiful opportunity -- an invitation to turn a gaze inward. I must say, I often reread them during the year. There are always times when I need to re-center. What better way than along a blessed walk with our Lord? This Lent, I plan to publish some of the poems. Day by day, on my blog, I will post one with a small reflection. I wanted to share one of my favorites with you today. I hope you enjoy it, and I pray you will come journey with me at Becoming Sound this Lent. There are times, as confusion and sorrow attempt to set claim upon our weary souls, we doubt. Where is Jesus? Where could He have gone? How did this happen? I thought ... where do your thoughts take you? Even as Jesus approaches us, trying to offer comfort, we do not recognize Him. The doubt has cast such cloud above us; we can't identify the shadow that walks beside us, beckoning us. This week, as you walk the road toward the Eucharist, take notice. Do you see Him? As you taste His blessed body and blood, do you know Him? Awaken. Be nourished. Do not doubt the Way. He is with you; feel His whisper upon your cheek. Be blessed.
---
All gathered around
that old wooden table,
flows the tale of a Man
born in a humble stable.
As that Man broke bread
and drank from that shared cup,
He bows His head in prayer
and lifts these words up.
"These are My hands
that ever wash your feet,
as you go forth, do as I
unto every person you meet.
'This is My body,
which will be given for you';
do not fret, for you will soon
understand the things I now do.
'This is My blood
which will be shed for all';
allow it to quench your longing
every time you, too, fall.
Do not shed one tear
as I take My leave;
remember it is in you
I live as you believe.
As you gather again
around any wooden table,
please ponder these words
as My truth and not fable.
For, I promise to be
with you every single day,
sweet breath upon your cheek
just follow The Way."
For further reflection, read Luke 24: 13-35; Matthew 28: 16-20; John 13: 14-15; John 14: 18-20; John 20: 19-22
---
Copyright 2018 Kimberly Nettuno
About the Author

Kimberly Nettuno posts her poetry and reflections at www.becomingsound.me. When not writing, she enjoys working on her farm in North Georgia where she makes certified organic goodies for her critters and the surrounding, local farms. She shares this life with her husband, three home-schooled daughters, two dogs, two cats, three horses, eight goats, some two dozen chickens, and thousands of bees.