Copyright 2017 Erin McCole Cupp. All rights reserved.[/caption] Lent is just about to start. I'm dreading it, but not for the usual reasons. Usually I dread the fasting — or the frequent failing at the fasting. The only thing that has made Lent bearable in past years has been how we've come to celebrate it with our children. Yes, there's Ash Wednesday Mass and continuing our daily Family Rosary, but the other little devotions we practice as a family this season of penitence have given Lent its, well, charm. I love the Crown of Thorns Sacrifice Wreath, the Stations of the Cross coloring sheets, the trying of new recipes so that we can have a different vegetarian meal for each of the 40 days of Lent. This year, however, when I sat down with my menu planning pen and paper and wrote the numbers 1-40 running down the page, my oldest asked, "Do we have to do vegetarian every day this year?" I swallowed hard. I was not surprised, but I also did not know how to answer. My oldest recently turned fourteen and is thus facing her first Lent of canonically required Friday abstinence. She and I are in very different seasons these days, spiritually speaking. The longer I've been trying to keep in step with Christ, the more extra affections I want to show Him: personal devotions like a chapel veil before the Blessed Sacrament, lectio divina, the Liturgy of the Hours, Mass besides just on Sunday, weekly Adoration. My oldest, however, is at a time where she wants to start peeling away those "extras." She has stopped wearing her chapel veil. She has expressed discomfort with the idea of going to the Sunday Mass right before Sunday night youth group, because she doesn't want her peers to see her more dressed up than their parents make them dress for Sunday Mass. Now it sounds like she doesn't want to give up the extra meat for Lent as our family has done for pretty much half of her life. I try very hard, when my kids rebel against me for any reason, to see the deeper developmental reason behind it. Kids need to make sure — deserve to know, in fact — that we're telling them the Truth. After all, God wired them to grow up and live independently of their parents. Some prepare for adulthood by learning from others' triumphs and mistakes. Some, however, just won't believe what we've told them until they've first deconstructed it, like the toddler who just won't believe that the stick is sharp until he pokes himself with it in the eye. When Venerable Father Patrick Peyton told his father that he wanted to leave Ireland and seek his fortune in America, his father made him kneel down in front of the family picture of the Sacred Heart:
Go down on your knees and make me a promise here before the picture of the Sacred Heart. From now on there will be nobody but yourself to advise you and to decide for you. But your first responsibility will always be to save your soul, and so I want you to promise to be faithful to Our Lord in America.
What a scary time for young Patrick's father, the season of letting go. Well, it's scary for me, anyway. I know this questioning child was never mine to begin with, that she always has been God's child more than she's been ours. "But, oh," my earthly mother-heart cries out, "what if she lets go of one thing and then another and then another until she lets go completely? What if she leaves Jesus and doesn't come back?" As my teen seeks to shed those "extra" devotions, I can only cling to Mary's promises to those who pray her Rosary — the Rosary our children prayed along with us for these five years. They are promises of powerful armor against hell itself. Of what should I be afraid? Of my child's free will? Free will is a gift to her from God. Who am I to demand it from her? And should she spend her free will on what fails, in the end, to satisfy? We parents must rest on the hope that there is no pain that God cannot console. And, perhaps, my oldest's current season is intersecting with mine because it's time for me to listen to my Mother, Holy Mother Church, who, in her wisdom, must have good reason to give us those bare minimums of Lenten practice. Maybe that reason is to keep us relying on her love for us, her wisdom and not ours The gates of the netherworld will not prevail against Holy Mother Church — with or without any "extras." Maybe, this Lent, it's time I let go of the extras — and the real "extra" is that dread I feel of letting go of my child and giving her the room God desires to make her ever more His own. Our Lady of the Rosary, pray for us.
---
Copyright 2018 Erin McCole Cupp
About the Author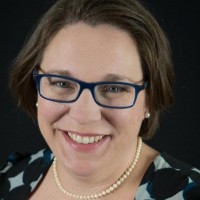 Erin McCole Cupp is a wife, mother, and lay Dominican who lives with her family of vertebrates somewhere out in the middle of Nowhere, Pennsylvania. She's working with Our Sunday Visitor on a book about parenting spirituality for survivors of family abuse and dysfunction. Find out more about her novels and other projects at ErinMcColeCupp.com.