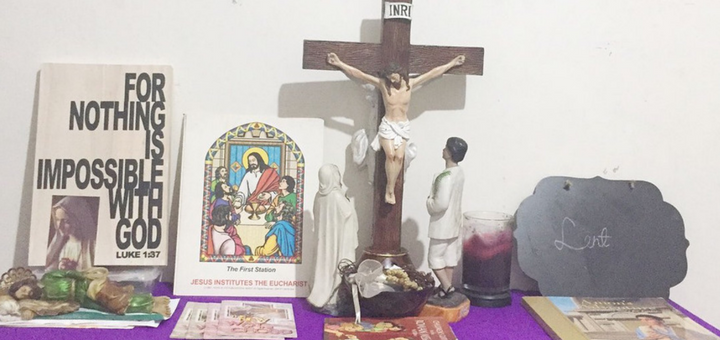 Copyright 2018 Tina Santiago-Rodriguez. All rights reserved.[/caption] Lent is usually known as a time for prayer, fasting, and almsgiving especially among us Catholic Christians. It is a time of pondering and reflecting upon the life, passion, and death of Jesus. It is a time of waiting for the celebration of Easter—and what a glorious 50 day-long celebration it is! To be perfectly honest with you though, I had never fully appreciated the liturgical seasons of the Church until I became a homeschooling mother. Growing up, my family was not really the "devoted" type. Sure, we'd go to Mass every Sunday and pray the Rosary occasionally, but we never practiced liturgical living the way many Catholic families do. All of that changed when my husband and I answered what we believe to be God's call to homeschool our kids. As a Filipino family living in Timor Leste (or East Timor, as many people call it) at that time, we searched online for resources that would be relevant to us as Catholic parents and wannabe homeschoolers. That's when I discovered blogs like Catholic Icing, Catholic All Year, Shower of Roses, and Raising Little Saints. The moms behind them are all homeschooling moms (or used to be, as in the case of Lacy of Catholic Icing). Through their posts, and articles found on other Catholic websites (like CatholicMom.com!), I learned so much about living liturgically, and I am so grateful to God for those who share so generously about what they are doing to build up their homes as "domestic churches!" I still refer to those sites a lot now that we are living in the Philippines. Admittedly, even after over seven years of trying to practice liturgical living as a family, we are not experts. But we do try our best to stick to the traditions and activities that we have already started doing every liturgical season, and add to them if possible. This Lent has been no different, except for us starting a new family tradition: feasting on Shrove Tuesday. Before Ash Wednesday, we also decorated our home in line with the color of the season.
Copyright 2018 Tina Santiago-Rodriguez. All rights reserved.[/caption] We read a few of our Lent/Easter-themed books aloud, to remind us of the significance of the season.
Copyright 2018 Tina Santiago-Rodriguez. All rights reserved.[/caption] We thought of sacrifices that we could offer up to the Lord as a family and as individuals, both in the physical aspect (no sweets/treats) and in the spiritual aspect (not being so hot-headed). We also wrote down the names of individual people and groups whom we could pray for daily. We are still in the process of thinking of ways to do almsgiving (beyond the usual offering of our money to the Church and charitable organizations). As I write this, it's been almost a week since Lent has started and gosh, I don't know about you, but it certainly has been challenging for us as a family so far! #KeepingItReal here. There were instances when we forgot our Lenten sacrifices, did not stick to our commitment to pray the Rosary daily, and so on. Gulp! And we still have a loooooong way to go! And yet, the beauty of Lent is that it is a wonderful reminder that God's mercies are new every morning. He will never give up on us, and so we must not give up either. Yes, observing Lent as a family may be challenging (I'm sure you know what I'm talking about), and making it relevant to our children can be a struggle. But as parents, we are called to do so. God wants us to teach them the beauty of living out our faith, even if we are imperfect at doing it.
Created using free elements in Canva by Tina Santiago-Rodriguez (2018). All rights reserved.[/caption] So let us keep on keeping on, dear fellow moms (and dads!) reading this. Let us continue to do our best to observe Lent as a family—with our hearts, minds, souls, and bodies—so that we can help one another be closer to the Lord, especially our children. Praying for a blessed Lenten season for all of us!
Let us not grow tired of doing good, for in due time we shall reap our harvest, if we do not give up. (Galatians 6:9)
---
Copyright 2018 Tina Santiago-Rodriguez
About the Author

Tina Santiago-Rodriguez is a Catholic wife and home educating mom by vocation, and a writer and editor by profession. Among her different roles, she believes that her most important "work" is to be a helpmate to her husband, and to raise her kids to be "Kingdom-Seekers." Find out more about Tina through her website: Truly Rich and Blessed.