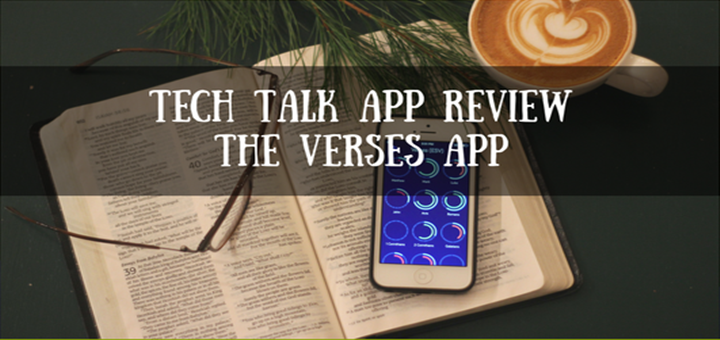 Copyright 2018 GetVerses.com. Title added by Kate Taliaferro. All rights reserved.[/caption] I recently stumbled on a newish app that has been a huge game-changer for me and my approach to Scripture memorization. I suppose I should rephrase -- it has caused me to have an approach to Scripture memorization. The Verses app (available for iOS and Android -- Beta testing) is all about memorizing Scripture in an engaging way. Within the app you can choose any verse from any book of the Bible to memorize. Then, through a series of games and challenges you work your way toward memorizing that verse. You can also add on the subsequent verses as your memory gets stronger so you can memorize whole passages. For example, start with Luke 6:20 -- the first beatitude. Once you have that memorized, add the second, third, and so on until you've got all 8 memorized -- Luke 6:20-26! You don't have to memorize alone either. The app lets you connect with friends and family to challenge, encourage and learn together. Imagine connecting with your Bible study group once a week in person, but then every day on the Verses app as you work to memorize your chosen verse or passage for the week. How cool is that!? The app also has a section called Discover, which has collections of verses based on a theme. Maybe you want to grow in discipleship. The Discover section has a whole series of verses all centered around Being Christ's Disciple and Growth in Christlikeness. You can also make your own collections of verses which is a powerful tool for small groups.
Copyright 2018 GetVerses.com. All rights reserved.[/caption]
Pros:
Elegant, user-friendly design
Engaging games that aid in memorization without being distracting from actual verse
Ease of connectivity and lots of practical application beyond solo memorization
App is free to download**
No ads (at least none that I've found)
Cons:
Not a Catholic-based app. While definitely usable and can have many positive results, users should be aware that certain topical essays like justification, sanctification, corporate worship, doctrines on grace, etc (found in the collections in the Discover section) are not written from the Catholic perspective.
Also due to the fact that this is not a Catholic-based app, the deuterocanonical books in the Old Testament (Tobit, Judith, additions to Esther, additions to Daniel, Baruch, Sirach, 1 & 2 Maccabees) are not provided.
When you download the app, you can choose which edition of the Bible you would like to work with. The King James version is free. All other editions require purchase, ranging from $2.99-$6.99. This is because of copyright, translation licensing, and the way the app pays its developers and creates new content.
Copyright 2018 GetVerses.com. All rights reserved.[/caption] If you are looking for a new way to memorize Scripture, or want to give it a try for the rest of Lent, I highly recommend this app. As a bonus, here is a list of Scripture passages that are perfect for Lenten reflection. This is just a small sampling. Another great place to look would be the daily readings or Sunday readings for inspiration. Before the Verses app, this list would have completely terrified me and I probably wouldn't have even attempted it. But with this app I feel confident in my abilities since I have the tools to master the challenge. Joel 2: 12-14 - Yet even now—oracle of the LORD—return to me with your whole heart, with fasting, weeping, and mourning. Rend your hearts, not your garments, and return to the LORD, your God, For he is gracious and merciful, slow to anger, abounding in steadfast love, and relenting in punishment. 1 Peter 5:6-10 - So humble yourselves under the mighty hand of God, that he may exalt you in due time. Cast all your worries upon him because he cares for you. Be sober and vigilant. Your opponent the devil is prowling around like a roaring lion looking for [someone] to devour. Resist him, steadfast in faith, knowing that your fellow believers throughout the world undergo the same sufferings. The God of all grace who called you to his eternal glory through Christ [Jesus] will himself restore, confirm, strengthen, and establish you after you have suffered a little. Psalms 73:26 - Though my flesh and my heart fail, God is the rock of my heart, my portion forever. John 3:30 - He must increase; I must decrease. Isaiah 53:2-5 - He grew up like a sapling before him, like a shoot from the parched earth; He had no majestic bearing to catch our eye, no beauty to draw us to him. He was spurned and avoided by men, a man of suffering, knowing pain, Like one from whom you turn your face, spurned, and we held him in no esteem. Yet it was our pain that he bore, our sufferings he endured. We thought of him as stricken, struck down by God and afflicted, But he was pierced for our sins, crushed for our iniquity. He bore the punishment that makes us whole, by his wounds we were healed. John 13:12-17 - So when he had washed their feet [and] put his garments back on and reclined at table again, he said to them, "Do you realize what I have done for you? You call me 'teacher' and 'master,' and rightly so, for indeed I am. If I, therefore, the master and teacher, have washed your feet, you ought to wash one another's feet. I have given you a model to follow, so that as I have done for you, you should also do. Amen, amen, I say to you, no slave is greater than his master nor any messenger greater than the one who sent him. If you understand this, blessed are you if you do it.
---
Copyright 2018 Kate Taliaferro
About the Author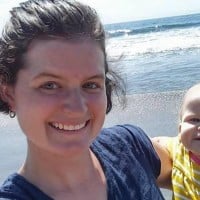 Kate Taliaferro is an Air Force wife and mom of 4. She has a Masters in Religious Education and tries to find God's presence in all parts of her day, be it cooking, cleaning or just the everyday ordinary. She enjoys homeschooling, stitching crafts and finding cheerios between the couch cushions. She blogs at Daily Graces.