Perhaps you've experienced what I'll call "Lenten relapse" — all of your great plans for Lent have disappeared among the piled-up plates in the kitchen sink, the toys scattered throughout the living room, and the junk mail piled high on your end table. Well, fear not, fellow Lenten traveler — you still have time to make this the best Lent of your life. One recommendation I have for enhancing your spiritual journey this lent is the book Sacred Reading for Lent 2018. It is not too late to start this work, since it follows a day-to-day format. You can begin fresh today — or catch up on the Lenten days you've missed. Either way, you will find nourishing food for your hungry soul.
Sacred Reading for Lent 2018 possesses an easy-to-follow format. Each section begins with an inspiring quote from Pope Francis. Consider, for instance, these sage words of wisdom from the Holy Father:
"May Lent be a beneficial time to 'prune' falseness, worldliness, indifference: so as not to think that everything is fine if I am fine; so as to understand what counts is not approval, the search for success or consensus, but the cleansing of the heart and of life; so as to find again our Christian identity, namely, the love that serves, not the selfishness that serves us."
How powerful those words are, and how they speak to the very soul of Lenten observance. Sacred Reading begins each daily meditation with a reminder that God is "present and ready to converse." It then contains a Scripture reading upon which to meditate. The helpful prompt after the reading advises us to notice "what you think and feel" as you read the passage. The devotional then reminds us to pray as we are led for ourselves and others. Another prompt encourages us to "listen to Jesus" and supplies us with some helpful words to assist in our all-important listening exercise. Finally, the daily reading reminds us to ask God to show us "how to live today." The richness of the meditations really fill the heart and the mind with the goodness of God. This is why Sacred Reading has become one of my favorite Lenten companions. I have found that, whether I have seven minutes to devote to a meditation or a half-hour, the readings are incredibly fruitful for my spiritual life. Sacred Reading is the work of the Apostleship of Prayer (the Pope's Worldwide Prayer Network). The ministry, served by the Jesuits, reaches in excess of 35 million persons worldwide. The promotional material for the book notes that it "acts as a spiritual map through the Church's daily Lenten Gospel readings, as well as readings for solemnities and feast days …" Without a doubt, Sacred Reading has become one of my favorite aspects of Lent, as it enables me to draw more deeply into the mystery and abiding love of the Holy Trinity. The book is an exceptionally helpful way to jump-start your Lent. How are you listening to Jesus this Lent?
---
Copyright 2018 Maria V. Gallagher
About the Author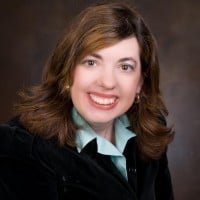 Maria V. Gallagher spends her days advocating for women, children, and families. She is the mother of a beautiful ballerina and a member of the worldwide Cursillo movement. In her spare time, Maria likes to blog, walk, sing, dance, and fill the room with laughter. Read her work at MariaVGallagher.com.