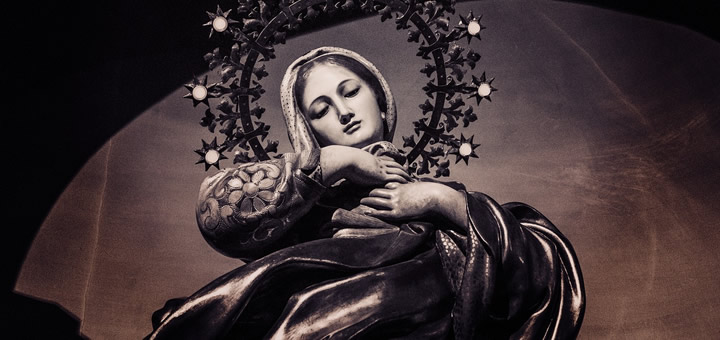 Pixabay (2016), CC0 Public Domain[/caption] If you're still looking for something to do for Lent this year, or you'd like to keep your mind off the pile of sweets in your pantry that you gave up, I'd like to suggest consecrating yourself to Mary. You're probably thinking, "Whoa, how does she go from sweets to the Mother of Jesus?" I know, the two are hardly connected — although sweets always qualify as heavenly in my book. The answer is, I don't know. I also tend to use Phil Collins songs as references to a lot of stuff that has nothing to do with Phil Collins, so maybe that's just the kind of person I am. The most Phil Collins has to offer Catholics is the song Something Happened On The Way To Heaven: "How many times can I say I'm sorry." That actually works for Lent. Anyway, after many penances from many different confessions, a few different priests suggested some form of Marian prayer for me along with the advice of getting to know her. Haily Marys. Asking Mary to intercede with XYZ, The Memorare — which I've gotten as penance quite a few times. Honestly, until now, I never gave much thought to Mary. I wandered into my faith later in life — as recently as two years ago, being led by my late grandmother who is still able to reach through the time continuum every time I'm at the grocery store, to remind me to buy straws because I never had any in my house when she visited. I currently have six bags in my pantry.
For me, Mary was just another actress in the book until I bought and read 33 Days to Morning Glory. That's when I really started to understand the importance of her role (and why my grandma devoted most of her life to her and is likely helping me find my way down that same path she walked). If you're not sure how to spend your Lent, fast from something you don't need that uses time you can put towards this daily retreat. Fasting + Prayer = two birds, people. You'll develop some great habits, and it might even change your life. What this book has:
Daily readings that are, maybe, a 5- to 10-minute read.
A summary of the Marian teachings of St. Louis de Montfort, St. Maximilian Kolbe, Mother Teresa, and Blessed John Paul II.
Extremely informative information that is inspiring and enlightening.
Easy-to-understand explanations of everything. Which is good for people like me who need Mary to actually throw the book at my face to hear her.
Mary not only humbly stepped up to save us all by saying "yes" and ultimately reversed the consequences of Eve's impulsive snacking habits, paving the way for Jesus to do His job — she's our Mother too. She's there to give us loving care and guidance to wherever we need to go. She also knows where we need to go, which is great for those of us who would just as soon spend our time here walking into the same brick wall over and over again. Here is what I've gained from the retreat: Simplified prayer. It doesn't get any easier than handing it all over to someone who knows what they're doing. If Mary knows someone in South Sudan who needs some prayer grace right now, if you let her, she'll take yours to care for them, plus remember to bless those in your life needing it as well. "Mary, I give you the right to distribute the grace of my prayers as you see fit." It's that easy. Steady, subtle comfort. No matter what, if you've entrusted yourself to her, she's there every step of the way. Maybe you don't have the best relationship with your mother in this world — if that's the case, it might take some time and effort to seek her out, but Mary understands, and she'll even help you with it. Not only can she be the best mother for you (and me), but she also wants to be. She is. Letting go. I tend to hold onto anger, anxiety, worry, and control. Since working on this part of my prayer life, I've found most of these emotions have been replaced with the knowledge that I only need to spend as much thought on something based on how much that something is even worth thinking about. Mary knows where we need help the most, so by giving some time in devotion to her cause she helps take care of things without me even asking. Becoming a better mother. Since this literary retreat, I often hear, spoken softly in the back of my thoughts, ways to bring my kids closer to me. Get to know them now. Laugh with them. Take the angry or frustrating situation and find a happy way to twist it — because whatever it is, isn't that big of a deal. Guide them through their days, in every little thing, as you wished you had been guided as a child. Total Marian Consecration won't make you trouble-free or make life any easier. What it will do is bring you inner peace and holiness as well as a greater appreciation for Jesus's life. That might not sound like much, but it's all you need to overcome anything in this life. So, while Phil Collins doesn't have any Marian-related songs for us Catholics, The Beatles do, and I think their wisdom in this instance is almost as good as sweets, if not better.
When I find myself in times of trouble Mother Mary comes to me Speaking words of wisdom, let it be.
---
Copyright 2018 Christina Antus
About the Author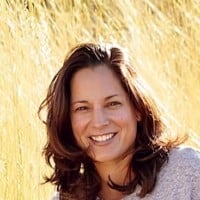 Christina Antus lives with her husband, cat, and four noisy kids. When she's not wrapped up in her favorite fluffy robe writing, she's running, reading, folding forever-piles of laundry, and probably burning dinner. She can occasionally be found hiding in her closet eating candy. Christina blogs at HousewifeRunning.com. Follow her on Instagram at @housewife.running.