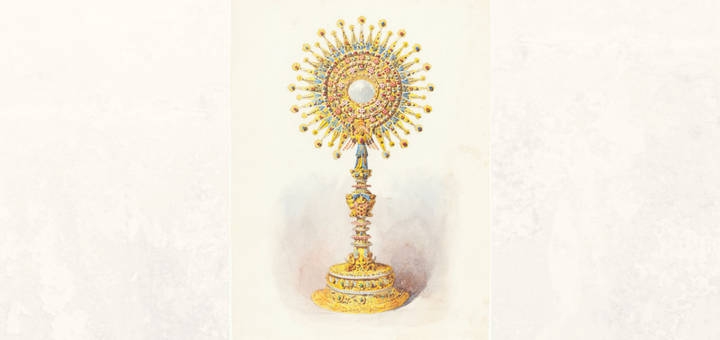 By NASA, ESA, the Hubble Heritage Team (STScI/AURA), A. Nota (ESA/STScI), and the Westerlund 2 Science Team [Public domain], via Wikimedia Commons[/caption]On June 8, 1935, a young journalist named Andre Frossard entered a chapel in Paris. He came not to pray, but to look for a friend. They planned to go to supper together and he was impatient. It was 5 o'clock. As he stood in the chapel, Andre felt hungry and distracted. Andre was an atheist, unaccustomed to the sights and sounds of a Catholic church. All he saw were people praying in a darkened space, but he could not find his friend. Still looking, he turned toward the altar where the Blessed Sacrament was exposed for Adoration. At that moment, precisely 5:05, Andre's life changed forever. Like Saint Paul knocked to the ground by the voice of Jesus, Andre felt a supernatural power sweep over him, erasing his spiritual blindness. Later, Andre wrote, "What I saw was an indestructible crystal of infinite transparency (that radiated) a pale-blue light of almost unbearable intensity. One degree higher and I would have died. Joy washed over me, irresistibly and gently, like a wave of light." That joy stayed with him the rest of his life. Every Wednesday at 4 o'clock, I enter a chapel, just like Andre. I also see the Blessed Sacrament exposed on the altar. It is quiet. White-veiled religious sisters, Servants of the Blessed Sacrament, pray in peaceful repose. I think of Andre's story and feel disconnected from his experience. No fireball of spiritual truth smacks me in the forehead. I must confess that my mind wanders and sometimes I even fall asleep. On energetic days, I strain my brain trying to feel Jesus on that altar, see Jesus in that Host. Distractions are a problem for me. As a little girl I would sit at Mass and look at the man in front of me, especially his neck. It looked pink and textured like our Sunday roast beef. Now I don't stare at people. I do notice rhythms to the afternoon. I look for the school janitor praying the rosary. I look for the shaggy-haired man who sings off-key during Mass. Definitely no fireball for me. I dig deeper into Andre's story to unearth some nuggets. Andre did nothing to deserve this Eucharistic miracle. His thoughts were on French cuisine. Yes, escargot sautéed in butter. My mind is not on eating land snails, but I may be thinking about how I have not prepared an evening meal upon my return from chapel. Look more closely at Andre. He stands in church, a self-described "idiotic atheist" who believed man existed on a godless planet that spun in space, with origin and destiny unknown. A whisper emanated from the Host. Jesus said, "spiritual life." You see, Andre was so clueless that Jesus knew an explanation was required. Like sci-fi time travel, Andre was wrapped in another dimension beyond time and space. Jesus exists whether we believe in Him or not. Jesus, the Truth, exists apart from the state of our souls. Ruth Barrows, a Carmelite nun and author, is emphatic about this point. Essentially, God is the power source of prayer. Release that grip on the old ego. Oh, my prayer life is well in hand, I say. Oh, those prayer methods will do the trick. Prayer happens in the heart and not the head. Prayer is a choice to be with our Beloved, despite our feelings or our distractions. Andre's miracle happened in the space of five minutes. He left the chapel in a state of shock, for he left the chapel as a committed Catholic. How shocked was he? To him it was as radical as entering a zoo as a human being and leaving the zoo as a giraffe. Today is Wednesday. Today I go to chapel. Today a blizzard bears down on our region, threatening to dump a foot of snow. I study the weather reports. Snow begins at 5 o'clock. We have studded snow tires. My husband will drive. I make that decision. I will go to Adoration. During that hour, I will worry that the snow has started. Right now, one hour before I leave for chapel, Jesus knows that I will worry about snow. Jesus knows my heart. I will rest on His heart and He will rest in me.
British 19th Century, A Monstrance, c. 1860, watercolor over graphite on wove paper, Gift of William B. O'Neal 1995.52.10. Via National Galleries of Art, Open Access (Public Domain).[/caption] Here is one more lesson to learn from Andre Frossard. When he entered that chapel in 1935, you and I might have judged his soul to be rocky ground. One year later, he converted to Catholicism and wrote over 15,000 articles, mostly about religion. In 1969, his memoir God Exists: I Have Met Him was published. It became a bestseller, read by thousands from around the globe, including Pope Saint John Paul II. Andre and the future saint became good friends. In 1990, Pope John Paul II awarded him the Grand Cross of the Equestrian Order of the Holy Sepulcher.
---
Copyright 2018 Kathryn Swegart
About the author: Kathryn Griffin Swegart was born in Boston and holds a Master's degree from Boston College. Married since 1981, she and her husband have raised three children on a gentleman's farm in rural Maine. Amidst dairy goats, chickens, and gardens, they homeschooled for twenty years. They enjoy tending their apple orchard, volunteering at church, and visiting their nine grandchildren. Kathryn is a professed member of the Secular Franciscan Order and the author of Heavenly Hosts: Eucharistic Miracles for Kids. Visit her blog at KathrynSwegart.com.
About the Author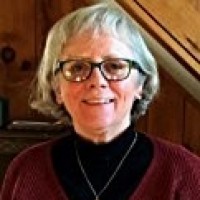 Kathryn Griffin Swegart and her husband raised three children on a small farm in rural Maine. Kathryn, a professed member of the Secular Franciscan Order, is the author of the bestseller Heavenly Hosts: Eucharistic Miracles for Kids Visit her website at KathrynSwegart.com.